Wangechi Mutu and Jaune Quick-To-See Smith Featured in NYC Museum Shows
As the planet and society appear to be tilting toward a precarious path, two art exhibits in New York City underscore how much we can learn from the creative voices in our midst.
The talents spotlighted are women who have experienced the impacts of hierarchical systems, othering, and the legacies of colonialism. The takeaways are visual pleasures and food for thought, concurrent with an in-depth examination of these issues.
At the New Museum (through June 4) is Wangechi Mutu: Intertwined. This extensive solo exhibition, with over one hundred pieces on display, presents Mutu's work from the mid-1990s to now. Installed throughout the museum premises, viewers can see the full complexity of Mutu's oeuvre—collages, sculptures, drawings, and film. The curators have constructed an environment that establishes the connective threads between Mutu's various areas of expression, exploring themes revisited throughout her career.
Born in 1972, Mutu divides her time between Nairobi, Kenya, and New York. Her undergraduate studies in anthropology influenced her practice, evidenced by her acute awareness of how non-European cultures and their narratives have been evaluated, categorized, and dismissed. Institutions vital in supporting her evolving vision were the former Museum for African Art, the Studio Museum in Harlem (where Mutu had an artist residency from 2003-20040), and the New Museum.
In 2019, the Museum of Metropolitan Art commissioned Mutu to deliver four bronze sculptures for their façade. She noted in an interview, "I've chosen to stick with the subject of the female body as a platform for what we feel about ourselves as humans." In 2022, Storm King Center tapped her to showcase eight large-scale sculptures at their facility (located on Lenape lands). They stood in relationship to the natural setting while invoking memories of historical displacement and the myths of previous inhabitants.
Human forms combined with botanical and animal life yield fluid boundaries, transmutations, and hybrid configurations. Limbs morph into plant-like structures or webbed extremities. Reinforced is the interconnectivity of all species, with a nod to the potential destiny of an imbalanced planet when one species considers its needs predominate.
In the 2000s, Mutu gained recognition for using photographic images cut from magazines and National Geographic issues, enhanced with watercolor and ink. Her mashup of imagery commented on the original material as an incomplete story. Mutu offered her visual impressions through a revised iteration. Like her videos, which explore the relationship between race, gender, and established power structures, Mutu employed the format to look inward, as a tool of self-examination.
The Whitney Museum is presenting Jaune Quick-To-See Smith: Memory Map (April 19 through August 23). It is her first New York City retrospective and encompasses almost fifty years of her creative energies. She has undoubtedly broken what she references as the "Buckskin Ceiling."
Born in 1940 on the Flatland Reservation in Montana, Smith is a citizen of the Confederated Salish and Kootenai Nation. Her life as an artist stands in tandem with her roles as an educator, activist, and curator. Smith is prolific, embracing a range of disciplines including painting, printmaking, drawing, mixed-media, collage, and sculpture. She has organized over thirty exhibits. Coming up is The Land Carries Our Ancestors: Contemporary Art by Native Americans at the National Gallery of Art in Washington, D.C. (September 24 through January 15, 2024).
In high school, Smith was informed by a white "coach" that she couldn't pursue higher education because, "Indians don't go to college." When she attended Olympic Junior College, a teacher told Smith that although she drew better than all the male students, "Women cannot be artists. That's the bottom line." Despite the societal obstacles, Smith got her Art Education degree in 1976 and her M.A. in 1980 from the University of New Mexico in Albuquerque.
In the accompanying catalogue, Adam Weinberg, Director of the Whitney, acknowledges that art by Native Americans had not been part of the Whitney's "curatorial mission." (Although he noted that commencing in 2015, the Whitney's commitment to Indigenous art was "now unmistakable.") In his essay, Weinberg asks rhetorically, "How can that be? What is a museum of American Art without a connection to the art of the United States' original inhabitants?"
During the 1970s, while at the University of New Mexico, Smith founded the Grey Canyon group, an alliance of Native American artists. In the same decade, she connected with feminist artists who were on-site as professors. While reevaluating their use of materials, they called out how the art world upheld gender prejudice. It was a time when women were thinking of their art in terms of the "personal as political."
Smith recognized how mainstream feminist concerns diverged from those of her community. She emphasized the role of Native women as empowered individuals and the matriarchal bearers of the lineage.
Frequently using European and American art's influence to riff on her identity and history, Smith consistently pushed back against stereotypes. With a biting wit, she referenced Pop Art and the idiosyncrasies of mainstream culture. She embedded printed materials into large canvases, representing ideas previously marginalized. Indistinguishable from afar, on closer examination, they were clearly evident. In 1992, Smith spearheaded a counter-movement to the celebratory 500th anniversary of Christopher Columbus's arrival in the Americas. Indigenous activists galvanized to address the subjects of land ownership, borders, exploitation, and oppression. In the face of continuing obstacles, Indigenous resilience remained at the forefront.
Smith deconstructed the Euro-American interpretation of Indigenous history and replaced it with her version of people, animals, objects, and language, as seen through her prism of humanism and environmentalism. Always primary in her work is the recording of memory and the relationship to the land through abstraction, pictographic symbols, and the reclamation of iconic imagery.
The contributions of Mutu and Smith stand as a testament to the act of witnessing via the arts. They also guide audiences to an understanding of how we got to where we are.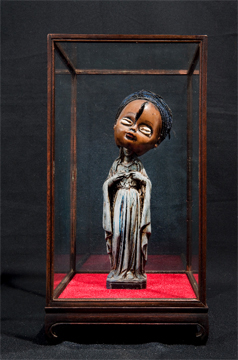 A version of this article appeared on the Next Tribe website