Martin O'Malley: Where Is He on the Environment?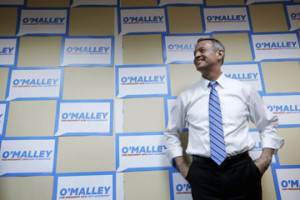 With the threat of climate change and a host of other environmental challenges looming like a dark cloud, the 2016 election will be a time to hold candidates accountable on where they stand on these concerns — and what they promise to deliver.
Martin O'Malley, previously Mayor of Baltimore and Governor of Maryland, has joined the presidential race as a Democratic contender. He is looking to establish himself as a champion on the environmental front. His agenda includes a "white paper" entitled, Our Renewable Future, and press materials featuring a checklist outlining his gubernatorial record of green accomplishments.
"We have a moral obligation to act immediately and aggressively to stop climate change, O'Malley has stated. He defines clean energy as a boom to job creation, and sees ending fossil fuel use as a "public health imperative."
Initiatives outlined include establishing a Clean Energy Jobs Corps tasked with retrofitting private and federal buildings to the "highest efficiency standards." Another key element O'Malley advocates is developing a national renewable energy grid — "the infrastructure we need to power America with electricity from 100% renewable energy sources by 2050."
O'Malley shows no ambivalence on topics that others have finessed. He is against:
The Keystone XL Pipeline
Granting new permits for drilling in Alaska and Antarctica — as well as offshore
Continued subsidies to fossil fuel companies.
In 2007, Governor O'Malley created The Maryland Commission on Climate Change to develop an "action plan" for his state. It came up with forty-two steps to steer Maryland onto the path of global warming pollution reduction.
I spoke with O'Malley and he referenced a shift to renewables as the "greatest business and jobs opportunities to come to the United States in 100 years." He addressed the "existential threat" of climate change, employing the narrative of "giving our children a future with more." O'Malley segued into a riff on leadership. "We can't continue to cling to the past. Change is inevitable. We must move quickly toward a clean energy future."
On a global scale, O'Malley discussed Obama's climate accords with China, commenting on the air pollution in Chinese cities that requires citizens to "wear surgical masks." "Is that the future we want?" he asked. Singling out Denmark as an example for their wind program, O'Malley said, "If Denmark can do this, we can do this."
When I questioned O'Malley about his stance on fracking, he suggested, "Natural gas could be a bridge. I wouldn't say no to fracking, but I'm concerned." Doubling back with his staff to facts check his view they wrote, "Governor O'Malley is the only candidate in this race who has called for ending our reliance on fossil fuels completely (which includes fracking), with a deadline of 2050."
O'Malley outlined engineering challenges to "de-carbonize the atmosphere," mentioning the use of solar panels, biofuels, and safer nuclear power. For the latter, he pointed to, "pebble bed nuclear technology."
When The Baltimore Sun took a look at O'Malley's record on the environment, his kudos were offset by the caveat that he had overstated the full measure of his success in cleaning up the Chesapeake Bay. In fact, The Baltimore Sun has a long history of editorials calling into question O'Malley's lack of political will around hard environmental challenges — particularly those that could damage his standing with donors and specific constituencies.
O'Malley presented as the real deal who had several good accomplishments under his belt, but what I was reading made me question whether O'Malley was a climate hawk or if his rhetoric was suspect. Was he working to build cred with the environmental community while in reality placating agribusiness — particularly the poultry industry? How did it all square?
One of the top problems for the Chesapeake Bay is the hundreds of millions of pounds of chicken excrement from poultry farming. The runoff from use on fields as a fertilizer is a prime factor in the buildup of phosphorus and nitrogen in the Bay — as well as in contaminating rivers, creeks, and ground waters.
Food and Water Watch, a public interest group based in Washington, D.C., is on the record probing where O'Malley stands on the chicken industry, corporate donors, and fracking. They explored his ties to Perdue Inc. — and released a series of e-mails between O'Malley and Perdue's General Counsel, Herb Freichs, via a Public Information Act request. Wenonah Hauter, Executive Director of Food & Water Watch, co-authored a 2014 op-ed inquiring, "Why is O'Malley giving poultry polluters a free ride?"
In our conversation, I asked O'Malley how he would deal with a recalcitrant Senate and House opposed to moving America away from fossil fuels. "Every Congress is temporary. Every election is an opportunity for change," he replied. It sounded encouraging.
Too often in the public sphere, the aphorism, "The perfect is the enemy of the good," is propounded when tough measures are watered down to reach an "acceptable" resolution.
Hopefully, moving forward, O'Malley — and all candidates — will be transparent on their complete environmental record. The stakes are too high.
Photo: Steve Pope
This article originally appeared on the website Moms Clean Air Force
Tell President Obama You Support America's Clean Power Plan