Koch Bros. "Fueling U.S. Forward" Takes Communities of Color Backwards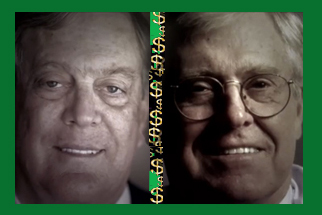 You would think that with the former CEO of Exxon, Rex Tillerson, and climate denying, Scott Pruitt, ensconced in Trump's cabinet…Big Oil and Gas would be resting easy.
Not so.
They're on a renewed mission to convince the public that domestic oil and natural gas are essential to personal well-being.
You won't be surprised to learn who is funding this agenda.
In a totally cynically move, backed by Koch brothers' dollars (nefarious for putting their unlimited financial resources behind climate disinformation), U.S. Forward was launched. Its goal is to specifically target minorities about the "benefits" of fossil fuel energies.
This latest move is particularly outrageous in light of the EPA regulations that are in line to be rescinded, particularly the cuts planned for staffers tasked with serving those impacted by Environmental Justice concerns.
Pruitt, who has done the bidding of companies like Devon Energy while serving as the Attorney General of Oklahoma, is at the forefront of the EPA budget axing. Projections of a 25 percent reduction have been floated. Other estimates suggest that one in five workers will be removed from their positions. Many of the jobs and programs destined for the trash heap are those from the Office of Environmental Justice.
Low-income communities and African American and Hispanic populations are struggling to cope with the disproportionate impacts of toxic sitings in their neighborhoods. Yet, they are being pitched a Madison Avenue type story about how fossil fuels makes life great.
During his Senate confirmation hearing, Pruitt claimed that he was aware of the Environmental Justice concept (kind of like Jeff Sessions saying that he's aware of the Voting Rights Act). Pruitt is gearing up to roll back the Clean Power Plan, methane gas emissions, and the Water of the United States Rule — on the basis of aiding "industry" to build jobs. A review of Pruitt's past actions demonstrate that he considers "industry" a more important "stakeholder" than people.
It's clear who is going to end up in the crosshairs.
U.S. Forward is a slick example of the money and profit agenda at play, and in a most egregious way. Under the "Who We Are" paragraph, there is no reference to the funding or the Board of this: "non-profit organization dedicated to educating the public about the value and potential of American energy, the vast majority of which comes from fossil fuels."
I'm not sure how many people are rushing to this website. However, according to a New York Times article, U.S. Forward is sponsoring events such as concerts. At one of these gatherings, those who were present received complimentary payment for one month's utility bill. Mixed in with the program was plentiful messaging and kudos for the cheap energy that is furnished by gas and oil.
However, not everyone is willing to stand by as fossil fuel behemoths scheme to direct the agenda of our current government, exploit the underserved, and work to influence public opinion.
Earlier this year, Sarah Labowitz, who had been serving on the External Citizenship Advisory Panel for ExxonMobil, resigned. Labowitz cited her unease with how the oil giant was trying to muzzle nonprofits and individuals (Think State Attorney Generals investigating corporate investor fraud.). What were they trying to shut down? The work of those engaged in revealing ExxonMobil's role in keeping scientific research about climate change a secret. Research dated back to the end of the 1970s. Hiding the worldwide impact of the information from the public was a bombshell.
I contacted Jacqui Patterson, the Director of the Environmental and Climate Justice Program for the NAACP. Her response to the U.S. Forward initiative was succinct:
"When we know that the price we pay for fossil fuel based energy production is asthma-related hospitalizations and climate change induced disasters (displacement from sea level rise and deepening food insecurity for our neighborhoods), there is a lot missing from any equation that claims net benefits to communities of color from the use of fossil fuels.

Given that we, as communities of color, pay a higher proportion of our incomes to energy costs, this is a crowning outrage. The same entities making money from energy bills revenues that gouge our bank accounts, are driving this false narrative around the benefits of fossil fuels."
There seems to be no end to the effrontery. As I was polishing up this post, Jake Tapper wrote on Twitter:
"White House press release plagiarizes paragraph from Exxon press release."
Score one for the big money boys! Score zero for America's children.
Note: On March 8, Mustafa Ali, who headed up the EPA program focused on environmental justice initiatives resigned. He had served at the EPA for 24 years.
This article originally appeared on the website Moms Clean Air Force.
Tell Your Senator: Protect Our Air and Natural Resources
Image: RVR Associates