Taking the Wraps Off Condoms
In 1564, renowned Italian physician Gabriele Falloppio wrote about the syphilis epidemic of 1490, documenting the use of condoms. In those days, condoms were sheaths made of linen that had been treated with chemicals. Method of application… they were tied on to the male appendage with a ribbon.
Condoms have come a long way. Currently, a mother-daughter team is doing their part to promote women being pro-active about their own health and sexuality. Marsha G. Bartenetti and Rachael Sudul have developed a condom carrier that doubles as a mirrored compact. What looks to be a simple and attractive makeup accessory, serves a greater purpose. A hidden well contains two 2″ x 2″ condom foils.
Bartenetti lives in Los Angeles. A singer and an established voice-over artist, she envisioned her product years before "the face of AIDS" was a reality. Her next-door neighbor was Carl Djarassi, a pioneer in the development of the birth control pill. He believed that the condom was one of the best forms of preventing pregnancy. She shared her idea with him, but didn't move forward on the concept until 2005 when she decided, "It's time. Let's do it." She used her savings from her successful career to launch Just in Case. Bartenetti has created a family company with Sudul, a 37-year-old mother of two who lives in Lafayette, Louisiana. Drawing on Sudul's background in the cosmetics industry, they are on a mission to revolutionize the way women think.
Speaking with both women via telephone, it's clear that they come to this issue with equal passion, but different sensibilities. Bartenetti recognizes the generation of women who were "trained not to say anything" when it came to advocating for themselves. "Women have to set the standard," Bartenetti emphasized, explaining her belief that "women are afraid to ask." She is clear on the philosophy that "I care about myself" is a necessary and appropriate point of view for a modern woman's sexual mindset. Giving women the compact and self-assurance to say, "That's the way I like it" is interwoven with the company's branding of "Love Well. Love Wisely." On the information card that comes with the packaging is their registered tag line, "…protection never had such style."
Sudul's input into the conversation reflects an attitude informed by a list of statistics she rattles off. "One in four teens has STDs; HIV/AIDS is the foremost cause of death for young black women in our country; unwanted births are contributing to poverty." She is plain spoken when she states, "Our daughters are in trouble. We have to see what is happening in our own backyards." She reiterates, "We are in big trouble when you have young girls that don't think blow jobs are sex." Sudul confirms that there is information "out there" – but insists that it is not yet impacting behaviors.
Data bears out her opinion. An August 2008 article in the Journal of the American Medical Association (JAMA) relates that females accounted for 27 per cent of new HIV infections in 2006. In a breakdown along age lines, the study showed that the 13-39 demographic had 9,130 of the 14,410 new infections; women 40-49 comprised 3,640; women 50 plus made up the remainder at 1,640.
In a New York Times article (3/16/09) entitled "A Rise in Sexually Transmitted Diseases," graphs presented what was characterized as "a growing health problem." Teenage girls (15-19) were shown to be at a far higher rate of infection than boys from gonorrhea, and at a precipitously higher rate of chlamydia. Dr. Stuart Berman of the Centers for Disease Control and Preventions (CDC) was quoted about the efficacy of condoms, saying, "Condoms are a very good way to reduce the risk of getting infections. If you use them all the time, and use them correctly, they work."
On March 18th, Cecile Richards, President of Planned Parenthood Federation of America, commented on the CDC teen birth rate report saying, "With nearly 750,000 teens getting pregnant every year, the United States is facing a teen pregnancy health care crisis.
Bartenetti and Sudul are working to create a "paradigm shift" with "Just in Case." Entering the dialogue with the goal of building a trend to "change behavior," they said, "We are redefining beauty to include sexual health." They see their product as a fashion accessory and a "confidence builder." Sudul references it as "something that's cool." The duo won a special 2006 Award for Originality at the International Package Design Award show, where competitors included Estée Lauder and Revlon. The compacts start at $24.95 for the classic design, which comes in a variety of colors. There is a custom made compact studded with Swarovski crystals that retails at $199.00. The subtext is, "Take responsibility and value yourself." Sudul puts it more bluntly asserting, "Unprotected sex equals Russian Roulette."
The company has made giving back to the community an integral part of their business plan, by donating a percentage of their profits to AIDS organizations and women's health charities. They designed a special edition compact in partnership with YouthAIDS, where 10% of the proceeds benefited the educational program of Population Services International.
With the compacts spreading out to more boutiques and retail outlets, hopefully women of all ages will take ownership of the need to integrate non-negotiable safe sex into their lives. Then women will be changing the statistics…one condom at a time.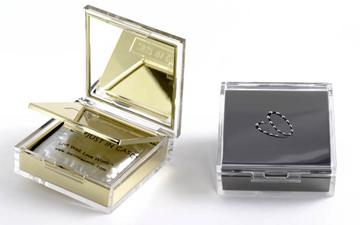 This article originally appeared at Empowher – Women's Health Online