Climate Strike in NYC Sends Powerful Message
The sun was strong. The music was loud and throbbing. There were dragonflies and butterflies hovering over the crowd — as if they too knew their lives depended on the Global Climate Strike.
Over a million students were excused from school in NYC and many joined the crowds that marched from Foley Square to Battery Park.
Along with high school students, there were young kids with their parents and older people who had probably been on the ground for the first Earth Day. It was a racially diverse group. Many were wearing shirts labeled with religious identifications, underscoring the moral call to engage in protective stewardship of the planet. There were members from numerous unions, connecting the dots between their work and the crisis at hand.
Signs were abundant. They ranged from serious ("Change Policies, Not Climate" and "Research Matters") to humorous ("The Dinosaurs Thought They Had Time Too"). The spirit was cooperative, joyous, and ultimately — defiant.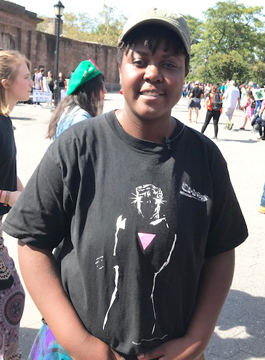 The first person I spoke to at the media tent was Vic Barrett, who is one of the plaintiffs in the Juliana v. United States case. Barrett is first generation Garifuna, an Afro-indigenous tribe from Honduras. He attends the University of Wisconsin and is studying environmental and political science. Barrett told me that he has been working to bring youth and people of color into the climate movement since he was 14-years-old.
Moving over into the throng of people, I met and conversed with 17-year-old Kimberly Sosa, who had come in from the Bronx. She told me her reason for attending:

"I am here to support a strike for climate run by the youth like me, and to get a feeling of activism as I mature and choose who I want to be in life. My biggest concern is the life I will live when I am 30."
Accompanied by his mother, 12-year-old Maxwell Kozar spoke with seriousness and intent. A vegan, Kozar said: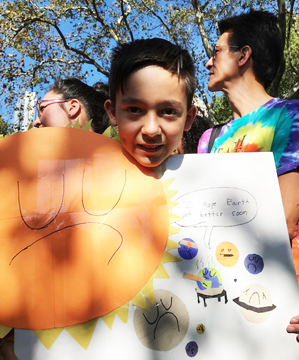 "I'm here because I'm an environmentalist and I care about how people treat the earth. There are other ways to make cars. The people on earth don't want to make the right choices."
The Peace Poets took the stage and performed. Before leaving the stage, they emphasized, "A one day strike will not change the system."
Artemisa Xakriabá, an Indigenous Amazonian Youth Leader, and member of the Xakriabá people of Brazil's Cerrado tropical savanna ecoregion, thanked the strikers for "their amazing strength." She said:

"I am here as a young activist, like Greta. The Amazon suffers. There is also deforestation of Africa and Indonesia. We fight for our Mother Earth. We are fighting for our sacred territories. No more Indigenous blood spilled!"
Isabella Fallahi and Kevin Patel, youth activists from Zero Hour, spoke passionately about how their community in Indiana has been impacted by the state's coal production. Asthma is a top illness for children in Indianapolis.
Repeatedly, presenters drilled down on key talking points:
The Climate Crisis is a human rights issue.
Support of the Green New Deal.
Youthful moral clarity is not naivety.
Culture must be transformed, with a focus on solutions and coalition building.
Registering the youth vote.
Indigenous wisdom recognizes that "humankind has forgotten that we are guests on planet Earth."
Jaden and Willow Smith garnered a huge response from the audience. They sang "Icon" and "Summertime In Paris" for excited fans. Jaden said, "We've got to show people we care about this. The power of the people is more important than the people in power." Willow encouraged the crowd with, "We can turn this thing around."
The coalition between groups was pointed to as a pivotal moment and not an abstract idea.
Earth Guardians Youth Director, 19-year-old Xiuhtezcatl Martinez, stated, "We are building, regardless of who we are. And all of you are a part of this. This is our time."
Rebeca Sabnam, a 16-year-old New York and Bangladeshi activist, and a Youth Advocate for Cafeteria Culture, which got Styrofoam banned from schools (and is now working on plastic bags), related the trauma being visited on Bangladesh. "The country is on the brink. As a low-level country, it is losing land mass. The poorest and most vulnerable have to move to slums." Sabnam spoke about the implications for displaced women and children, who are then prey to sex traffickers. "These people matter," she said. "We need action as big as the crisis."
There was a moment of silence for those who had lost their lives in climate disasters.
Then it was time for Greta Thunberg, the 16-year-old who spearheaded
#FridaysforFuture, and is being considered for a 2019 Nobel Peace Prize. She is not afraid to speak truth to power, and on Capitol Hill, told both deniers and allies, "I know you're trying, but just not hard enough."
A chant of "Greta, Greta," rippled through the crowd. She started her remarks with, "Hello, New York City." To 250,000 people, Thunberg discussed the immense turnout around the world, believed to be four million in over 150 countries, and on all continents including Antarctica.
She said:
"This is the biggest climate strike in history, and we should all be proud of ourselves because we have done this together. We are not in school today. We have some adults who skipped work. Because our house is on fire.

We are united behind the science…Our future is being taken away from us. We need to do this now…Everywhere I've been, the situation has been the same. Empty promises, lies, and inaction are the same. Nobody in power tells it like it is. They leave it to us, the children."
Thunberg noted that when power brokers come to the United Nations, "the eyes of the world will be on them."
Pulling no punches, she continued, "This is not for politicians to take selfies with us and to tell us what they will do. If no one else will take action, we will. We are a wave of change. This is what people power looks like. We will make the world leaders act. We can and we will."
Throwing down the gauntlet, Thunberg warned:

"For those who are threatened, we have some very bad news for you. This is just the beginning. Change is coming."
Everyone believed her. It was an amazing day.
Photos: Marcia G. Yerman
This article originally appeared on Moms Clean Air Force.
Tell your Representatives it's Beyond Time for Climate Action!