New Study: Women Making a Difference Through Philanthropy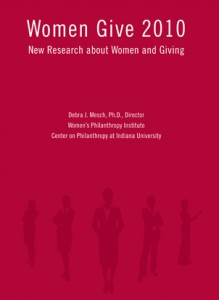 With charitable organizations struggling for donors in the current economic climate, a just released October report from the Women's Philanthropy Institute highlights a giving sector that may be getting short shrift.
The new study, Women Give 2010, is the first of its kind to compare philanthropic giving "between men and women across all income levels based on a nationally representative sample."  Unique in its approach, Women Give 2010 drilled down exclusively on single heads of households "in order to examine gender differences."  The data used came from COPPS, a research project that "aims to follow the same families' philanthropic behaviors throughout their lives."  In order to allow "direct comparisons" between the philanthropic conduct of men and women, researchers "controlled for factors" that influenced charitable giving—which included education, race, income, and age.  The data for the study was compiled from 2007, the year preceding the recession.
Specifically, the methodology brought to light findings through a categorization of two sub-groups. They were based on marital status and five divisions of income.  The approach eschewed only looking at the giving habits of affluent women.
The analysis is the first of an annual series of reports the Women's Philanthropy Institute plans to release on women and philanthropy.  Future studies are slated to look at giving in terms of age, race, and areas of donor interest.
A focus of assessment was how shifts in the culture, and women's evolving economic status, have impacted charitable giving.
Currently, the American labor force is comprised of 59.9 percent women.  The amount of women who are working and who have college degrees has almost tripled in the time span from 1970 to 2008.  The numbers on marital status have changed dramatically as well.  In 2009, the number of unmarried and single Americans comprised 43 percent of the population 18 and over.  53 percent of that group was women.
I spoke with the Director of the Women's Philanthropy Institute, Debra J. Mesch, Ph.D., to get her insights on what she perceived to be the major messages of the findings.  She saw several narratives.  The first was that women give both "the big bucks" and at smaller levels.  Most importantly, she regarded the report as "empowering all women to understand that they can make a difference"—regardless of the amounts that they give.
Looking beyond the facts and figures, Mesch explained, "Women pick their charities in terms of their involvement and passion for the organization.  There is also a high relationship between those who volunteer for organizations, and the organizations that they give to.  Women need to feel some involvement in their altruism.  They need to be connected.  Men are more likely to just write checks."  She underscored the different "patterns and motivations" between men and women in their giving.  She said, "Women are great equalizers.  They want to be fair to everyone."
Mesch emphasized, "It's the first study that I know of that shows a strong consistency in the data pointing out that women are outperforming men, in terms of whether they give—as well as the amounts."  She also noted that women were becoming more strategic in their philanthropy, as evidenced in the springing up of giving circles and the use of social media.
I contacted Taina Bien-Aimé, Executive Director of Equality Now, an international organization that works for the protection of the rights of women. When we discussed the pattern of giving among her donors, her comments fell in line with Mesch's suppositions about the psychology of women's giving.  "90 percent of our donors are women," Bien-Aimé told me.  "They seem to be more interested in women's rights.  They understand that equality is essential for the future of the planet."  When I shared some of the findings with Bien-Aimé she responded, "It confirms our experience.  Dedicated women with no income will send you five dollars.  The issues speak to them, and that moves women to give."
Do non-profits seeking dollars need to recalibrate the way they look at women as a source of support and revenue?  Dana Kuznetzkoff, a film and television producer in New York City, thinks so.  She has been the single head of her own household since she graduated from college.  "Women donors are undervalued, she said.  I can't tell you how many times I have received a thank you note for a donation addressed to Mr. Kuznetzkoff."  She has a group of organizations that she supports which includes the Southern Poverty Law Center and the National Multiple Sclerosis Society.  Kuznetzkoff is actively involved with Bpeace, a network of business professionals who volunteer skills to entrepreneurs in "conflict-affected countries."  The goal is to help create significant employment and expand the economic power of women.  She is excited by the prospect of giving not just her money, but the use of her talents as well.  On the results of Bpeace's efforts Kuznetzkoff said, "I've never seen anything like it before.  Hundred of women in war-torn regions receive pro bono consulting, which enables them to employ over 1500 workers—which then impacts over 10,000 family members!"  Her enthusiasm has been a catalyst for her to reach out to her personal community and spread the word. She related that she taps her network of women more than men because, "Women are more sympathetic.  Men are looking for that big fish.  Women can relate more to the grassroots appeal where your dollars are going directly to a program, and not to an organizational structure."  She added, "Women are tired of death and destruction of families, whether it is South Central Los Angeles or Afghanistan."
Beyond the report's findings is Mesch's hope that the documentation will make a tangible impression on women.  She concluded our conversation with a remark expressing her wish that the study would help women to see where they fit into the philanthropic landscape, so they understand, "I can make a change in the world."
Images: Courtesy of the Women's Philanthropy Institute