Trump Puts Big Oil Over the American People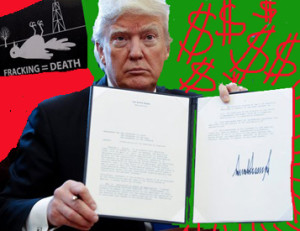 On Tuesday, January 24, Donald Trump made a symbolic show of putting his signature on two presidential memorandums that demonstrate how his administration plans to deal with the environment.
President Obama nixed the Keystone XL Pipeline and blocked the Dakota Access Pipeline. Now Trump is reversing his actions.
A chilling gag order has gone out to employees of the EPA, telling them not to communicate with the American public or press. In response to tweets deleted from the Badlands National Park account on carbon dioxide stats, a rogue handle, @AltNatParkSer, has sprung up. It describes itself as, "The Unofficial 'Resistance' team of U.S. National Park Service."
Trump's presentation in the Oval Office was his version of political theater. He held up the signed documents housed in a portfolio, like a teacher showing illustrations to a first-grade classroom. He engaged in a monologue with the usual inflections, inflations, and disinformation.
"This is subject to terms and conditions negotiated by us," Trump said, referencing the XL Pipeline. He continued free-form. "We're going to build our own pipes in the United States…A lot of jobs. 28,000 jobs. Great construction jobs." (Note: Construction jobs are temporary, not permanent jobs.)
It didn't take long before the legal experts sent out reaction e-mails.
Waterkeeper Alliance General Counsel and Legal Director Daniel E. Estrin wrote:
"Each year in the United States, oil pipelines spill an average of 11-million gallons. The Keystone XL and Dakota Access pipelines threaten the fishable, swimmable, drinkable water for millions and the viability of North American farmland.

Clean energy is the future. It creates more jobs, more economic growth and makes us energy independent. Investing in oil pipelines is outdated, dangerous thinking that puts American lives at risk." He added, "Trump is padding the bottom line of companies he's invested in at the expense of the American people."
Let's take a look at the tangled web of money and interests around the XL Pipeline and the DAPL, which puts the interest of building pipelines over the people they harm.
Harold Hamm, who is giving Trump "advice" on energy policies, made his 15 billion-dollar fortune from his fossil fuel profits. Forbes called him, "The most successful fracking pioneer." He is expected to use the DAPL to ship his product. Trump has investment holdings in TransCanada and the Energy Transfer Partners, the companies behind the pipelines. No paperwork is yet available to show he has divested. Energy Transfer Partners gave Trump's campaign $100,000. (Rick Perry and Scott Pruitt have been heavily funded by fossil fuel dollars as well.) After Trump's announcement, the stock share prices in both companies got a 3.5 percent boost.
If Rex Tillerson, former CEO of ExxonMobil, gets the approval of the Senate for Secretary of State, he will be signing the paperwork since Keystone is a "cross-border" project.
When Obama's Secretary of State John Kerry said no to the pipeline in 2015, he made clear that American pursuit of the pipeline "would significantly undermine our ability to continue leading the world in combatting climate change."
What does this renewed fight mean for our children?
Nothing good, especially if you live on Native lands, around Port Arthur, Texas, are from a family of landowners in Nebraska, or reside in one of the four states impacted by DAPL.
It means that public opinion around these projects has been disregarded. Comments from parents, doctors, and scientists flooded the EPA with concerns about the impact on children's health resulting from an increase in global-warming pollution.
Senator Jeff Merkley (D-Or), a true climate hawk, nailed it in his clear-cut response to Trump's actions. He wrote:
"The proposed Keystone XL and Dakota Access Pipelines have inspired unprecedented grassroots opposition, and for good reason: they would turn on the tap to the dirtiest fossil fuels in the world while threatening drinking water. This executive order is a slap in the face to our tribes and to every American who cares about clean water or a livable planet. Instead of using his power to try to ram these damaging pipelines through, Trump should listen to the voices of the millions who have expressed deep concern about the lasting negative impact these projects would have on our nation."
Where does this leave our kids? Gasping for clean air and water.
Tell Your Senators: Stand Up to Trump's Climate Denial
This article originally appeared on the website Moms Clean Air Force.
Collage: Courtesy of RVR Associates