NARAL Pro-Choice Leadership Plays the Gender Card
When Donald Trump opened his mouth and announced that Hillary Clinton was "playing the woman card" in her quest for the presidency, he unleashed plenty of reaction.
NARAL Pro-Choice America saw the slam as an opportunity to put together a deck called the Gender Cards. The set applauds the achievements of American women, from the Suffragettes to the founders of #BlackLivesMatter. Writers, artists, athletes and activists are included, along with the four women who have served on the Supreme Court and Harriet Tubman. Hillary Clinton is the Ace of Hearts.
The two Joker cards are Mindy Kaling and the duo of Tina Fey and Amy Poehler. However, it goes without saying that the 2016 election, from the top of the ticket on down, is no laughing matter.
Trump has stated that women should be punished for having an abortion (which he sort of walked back), and has been definitive about appointing a "pro-life" justice to the Supreme Court who is committed to invalidating Roe v. Wade.
The threat to reproductive rights goes far beyond the Roe v. Wade ruling. It is a constant war of attrition for those in the anti-choice movement, who are continually working to devise new approaches that will impact the playing field.
More than eight-hundred laws, which chip away at access to abortion, have been passed in individual states over the past ten years. They particularly impact those who are young, low-income, and women of color.
NARAL has made it a point to call out elected reps who are getting a pass. A prime example is their push to make the voters of New Hampshire (who overwhelming believe that a women's access to abortion should not be restricted by the government) aware of Sen. Kelly Ayotte's repeated activities to put limitations on reproductive rights and to defund Planned Parenthood. Ayotte is also one of the senators refusing to consider the confirmation hearings of Supreme Court nominee Merrick Garland — until after the election — which will impact all cases heard.
I contacted Ilyse Hogue, President of NARAL, to get her thoughts on the latest infringement on abortion rights in Oklahoma — where the legislature passed a bill to take away the medical licenses of doctors who perform abortions (which Governor Mary Fallin subsequently vetoed). I also wanted to hear her thoughts on this wacky, and scary, presidential election.
She responded via e-mail with these comments:
"Attempting to punish doctors who provide abortion care is not a new strategy, but it is dangerous. As more pragmatic anti-choice extremists are forced to acknowledge that attempts to directly ban abortion are a dead end, they have found greater success in deceptive efforts to cut off access to abortion care. One of the most damaging ways they do this by going after doctors, making them targets of anti-choice violence and bullying them out of providing care. History shows us that just because abortion is illegal or inaccessible, women do not stop seeking that care. We talk about back-alley abortion as if it's a pre-Roe relic, but women in hostile areas of the country without real access to abortion care will tell you that's not the case.

2016 will go down as a turning point for our nation, and as women, our collective destiny hangs in the balance. On one hand, this year is yet another where historic numbers of bills have passed through state houses limiting our freedom to make our own decisions about abortion care and contraception, while we have witnessed the sexist rhetoric in the presidential race reach an all time low.  Both houses of Congress have held bogus hearings motivated by universally discredited videos and junk science. We've seen arguments in cases at the Supreme Court that will determine the future of abortion and contraception access in this country.

On the other hand, we have a vibrant and energetic movement making policies like paid parental leave and equal pay a political reality. We stand on the cusp of electing our first female President whose vision and hard work has broken barriers and expanded what's possible and whose interests are served in our country. Hillary stands among a long line of women — known and unknown, sung and unsung — who have, are, and will continue to make America great again and again."
Hogue ended with a thought that was part warning and part promise:
"The only question that remains to be seen is which future we choose: one that is grounded in fear and trades in disdain for women — or one where all Americans have the promise of equal opportunity and the freedom to live full lives."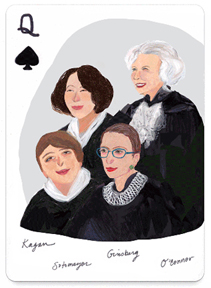 This article originally appeared on the website Ravishly.