Girl Be Heard: Staging the Revolution via Theater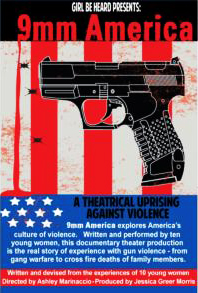 Girl Be Heard (originally known as the Project Girl Performance Collective) is a not-for-profit theater group that is the brainchild of Ashley Marinaccio, Artistic Director, and Jessica Greer Morris, Executive Director. They have melded their talents and backgrounds to create "social justice theater." The new name reflects a rebranding, as the organization moves beyond its New York City roots to take on worldwide issues.
Part of the arts and activism movement that has been embraced by Culture Project and Eve Ensler, among others, Girl Be Heard has gained traction as part of the Manhattan theater scene—no easy task. With a strong Board of Directors and high profile supporters that include Gloria Steinem and Peggy Kerry, they already have a string of performances under their belt, from presentations at the White House to the United Nations.
In June, I attended their production of 9mm America—A Theatrical Uprising against Violence. Part of the Planet Connections Theatre Festivity, it was staged at the Robert Moss Theatre. There was no platform stage, just a scuffed black linoleum floor. The backdrop was simple white canvas. In this space, the troupe delivered a raw and visceral 90-minutes of truth about the impact of gun hostilities in their neighborhoods.
A soundtrack captured honking horns, buses, and other street cacophony. Projected on the canvas were gun statistics. Four girls transported the audience into their worlds with a foot-stomping dance. They recited words that spoke of "gunshots outside my window" and "telling my story to rise above the pain."
In an environment where "chalk lines and dead bodies" are more common than hopscotch squares, one character related, "Death is nothing new." Perhaps the fact that the "average age of first gun use is 14" is a key component.
An integral part of the Girl Be Heard format is talkbacks with different guests. The night I was present, Jackie Rowe-Adams, co-founder of Harlem Mothers Save, was on hand. Rowe-Adams has lost two children to gun shootings.
The subjects that Girl Be Heard  have explored are wide ranging. Race, sexual orientation, body image, drugs and alcohol, suicide, trafficking, child marriage, and physical abuse are all themes on the agenda.
As Girl Be Heard gears up for their new season, I reached out to Marinaccio and Greer Morris for additional insights:
The Girl Be Heard agenda is expanding. As the Founder and Artistic Director, can you share the genesis of the troupe and where you see Girl Be Heard headed?

Marinaccio: "Girl Be Heard was developed out of the Estrogenius Festival. I was asked to write and direct a show for teen girls. After meeting all of the girls at the first rehearsal, it was apparent that they should be writing and performing their own stories. After the performance, the company asked if we could continue the work—and the following year we brought the show to the New York International Fringe Festival. The rest is history. It was very obvious that there was a need for this work—for young artists to be empowered to write and perform their own work.

This year we're very excited to be continuing our weekly girl empowerment theater/writing workshops, in addition to developing a new intergenerational show with company members and women of all ages. We will also be touring some of our older work including: 9mm America, a theatrical uprising against gun violence: Trafficked, our show on child exploitation and sex trafficking; Girl Be Heard: Congo, the show we devised with youth activists living in the Democratic Republic of Congo. We will be welcoming a new group of young women to the company, in addition to continuing to foster the voices and talent of our returning members. We have auditions twice a year for Girl Be Heard. Our next call, for young women between 12 and 21, is in September for the 2013-2014 season. Prospective company members can visit the site for more information."
You have produced theatrical pieces for a wide range of platforms from the New York City Fringe Festival to the United Nations Commission on the Status of Women Conference. How have you combined your Masters In Public Health from Columbia with your role as a playwright, and what made you decide to connect the two areas
Greer Morris: "I am a playwright and long time theater practitioner.  But I am also a human rights activist and grassroots organizer who has worked in the trenches of New York City and developing countries to advocate for girls. When I applied to graduate school in my mid-thirties, I was told that a doctor saves one life at a time and in public health we do it by the millions. This is what attracted me to getting a Masters in Public Health. I have always been passionate about human rights work and was inspired by my personal feminist hero, Alan Rosenfield, who was the Dean of the MPH program at Columbia.  Alan wrote an article called "Maternal Mortality—A Neglected Tragedy."  It is about the number one killer of women around the world—childbirth. This article directly improved access to health care for pregnant women by transforming the approach of leading international health groups. He also wrote a transformative article that saved the lives of "neglected" women who were dying of AIDS. He was a doctor who thought about how to change misogynist health systems that neglected women so severely that it literally killed them by not providing critical care.

This background gave me the ability to approach systemic problems, from racism to sexism, and to identify creative solutions.  Globally, six out of ten girls have or will experience physical or sexual violence in her lifetime.

Ashley and I spearheaded Girl Be Heard to harness the power of theater to raise awareness about these issues by engaging girls to tell their stories. Our girls tell extremely personal stories about communities that are repressing and destroying the lives of women and girls, who then rise above their circumstances to become leaders in the movement to make the world safer for women and girls. This is why we brought our show about rape in the Congo to The White House, the United Nations, TED Women, Stanford University, Barnard College and on tour with the UN Girl Up Foundation. This is why we are working to bring 9mm America to The White House and Capital Hill. Our goal is to move the needle on the issue of gun violence.

We believe that if a girl can change her own life, she can change the lives of girls everywhere."