Giving Back to Veterans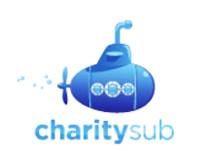 CharitySub, a "subscription service for giving," is highlighting three organizations in November that focus on the needs of veterans. Their model is simple. Members of the community give five dollars every month, and learn about an issue that needs support. After reading the profiles of CharitySub's picks, they decide where they want their donation to go. The fee is billed to a credit card and is tax deductible. Amy Crews, a co-founder, explained to me that the idea is to make philanthropy accessible. Crowd sourcing five dollars can make a difference.
On the page titled "Returning Veterans," CharitySub has stats about the concerns that veterans face, an overview of each organization, and videos that describe their work. When you see the graphic that the suicide rate has increased 150 percent among veterans since 2001, you know that something is desperately wrong with how the country is handling the needs of veterans.
I reached out to each non-profit to learn more about their work.
The Jericho Project has used their previously successful model for working with the homeless population, and applied it to homeless veterans. I spoke with Christopher Cubitt, Development Associate, who is also a National Guardsman. He walked me through the Veterans Initiative Program. It provides "132 units of supportive housing to homeless and at-risk veterans," based on a one year renewable lease. For younger vets, it can be the safe haven they need while going back to school or looking for employment. Many have come back from service with specialized skills that are not readily transferable to the job market. For others, including those who served in Vietnam or the Korean War, it can be a solution for permanent housing.
Their outreach is inclusive of women veterans, and the tenant mix is approximately 75 percent men and 25 percent women. Transitioning back into civilian life is a key challenge after the regimentation of the military. Social workers and career counselors are part of their system. Cubitt told me, "Jericho believes that transformation can occur in each and every individual, and knows that transformation takes times of various lengths for various people.  That's why we offer permanent housing coupled with the full array of Jericho support services to veterans—so that homeless veterans can get back on their feet and live successful independent lives—as veterans should."
At the Blinded Veterans Association, founded in 1945, the team works with veterans as they transition from life with vision to life without it. Kay Starr, Development Researcher at BVA, related that "16 percent of servicemen and women returning from Iraq and Afghanistan are diagnosed as vision impaired—reportedly the highest percentage for any modern conflict." BVA has been one of the groups pushing for more research and funding to be allotted to eye injuries and how best to treat them.
As a result of Improvised Explosive Devices (IED), Traumatic Brain Injury (TBI) is frequent. One of the symptoms of TBI is vision loss, which may or may not be permanent. Penetrative eye injury can result from headgear being blown off from the impact of an explosion.
Their Operation Peer Support connects recently blinded veterans with other blinded service members from previous conflicts. The field service program is comprised of reps who are legally blind veterans. Alumni, who have been through the program, come back to speak with and mentor new members.
Puppies Behind Bars not only trains and donates service dogs to wounded vets returning from Iraq and Afghanistan, it also enables prison inmates to be an integral part of the process. Their program, "Dog Tags: Service Dogs for Those Who've Served Us," is truly a circle of giving and receiving. The puppies are trained by male and female prisoners. The organization pays 100 percent of all costs associated with the training that takes place in prison. Most of the veterans have Post Traumatic Stress Disorder (PTSD) and TBI. The dogs can be taught as many as ninety commands, and handle both emotional and physical issues. For two weeks, a veteran works with the prisoner who trained the dog that they will receive, in order to learn how to interact with their service animal. It's a win-win situation for the prisoners, who are enriched from their experiences in constructively helping a veteran.