"The Invisible War" — Documentary Spotlighting Rape in the Military Aims to Create National Awareness
"If this is happening to me, I can't be the only one."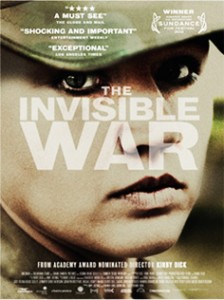 That epiphany is shared in the new documentary, The Invisible War, which takes an in-depth look at the impunity with which rape in the military is handled.
Directed by Kirby Dick, it was recently featured at the Human Rights Watch Film Festival, where it garnered the Nestor Almendros Award for courage in filmmaking. The Invisible War interweaves devastating statistics with the personal stories of a group of women and one man. Their lives have been forever altered by "soul-shattering" violations from those they had believed to be a trusted family—the military.
The subjects relate their narratives while sharing their original feelings of pride and accomplishment in performing their jobs and being part of a community. That idealism dissipated as the structures put in place to create unity and cohesion turned against them when they sought justice for the brutalities committed.
Over 20 percent of female veterans have been sexually assaulted while serving. 80 percent of survivors do not report the incident. Claims are not treated seriously and the credibility of the victim is continually called into question. Rape cases are usually handled by men, as women are considered "too sympathetic" for the task.
It doesn't help that the system for accountability is riddled with commanders preferring to sweep incidents "under the rug." This is borne out by the data that "33 percent of female soldiers didn't report their rape because the person they would be reporting to was a friend of the rapist, while 25 percent of female soldiers didn't report their rape because the person to report to was the rapist."
Would anybody enlist if they knew a court ruling had put forth, "Rape is an occupational hazard of military service." The military is referenced as a "target rich environment for predators." A Navy study cited shows that 15 percent of incoming recruits attempted or committed rape before entering the military.
Anu Bhagwati, a former Marine Corps captain and the co-founder and Executive Director of SWAN—a national civil rights organization led by women veterans—offers an observation about the attackers of the 1 percent of males raped in 2009 (the equivalent of 20,000 men). She says, "The rapists are not gay, they are heterosexual. It's not about sexual preference. It's about power and violence."
Michael Matthews was raped and assaulted by three servicemen twelve months into his enlistment. He attempted suicide five times and attests to the fact that the incident "destroyed his life." He didn't discuss what he had been subjected to for three decades. When he finally told his wife, it was like a "great weight had been lifted off of him."
For women in the military who have been raped, the rate of Post Traumatic Stress Disorder (PTSD) is higher than for men who have been in combat. Helen Benedict, author of The Lonely Soldier: The Private War of Women Serving in Iraq, remarks that 40 percent of homeless female vets were raped while serving and as a result, "can't hold their lives together."
The film brings to light that "in units where sexual harassment is tolerated, incidents of rape triple." In the Marine Barracks in Washington, D.C., recognized as home to the "best of the best," serving as security for the President and dignitaries, only a few dozen women are part of the team. Upon arriving, they are welcomed with insinuations that they have made the grade by supplying sexual favors. Four women who reported being raped were investigated or punished. No officers were disciplined for any assaults.
In the military world, reports of rape must travel through a chain of command. Attorney Susan Burke explains in her interview that she has been pursuing a lawsuit on behalf of sixteen military women, alleging that rape survivors have been deprived of their constitutional rights. Burke maintains that in order to move forward with prosecuting rapists, "something akin to a civilian system" is needed. In December of 2011, the court dismissed the lawsuit. An appeal has been filed. (Footnote: Most NATO allies no longer allow commanders to determine the prosecution of sexual assault cases.)
Dr. Kaye Whitley is on hand to represent the Department of Defense's Sexual Assault and Prevention and Response Office (SAPRO), in her role as Director. Offering puerile measures such as printed posters announcing that "sexual assault is preventable," and "risk reduction" steps such as "always have a buddy with you," she is on firmer ground dodging questions with the response, "That's out of my area of expertise." On August 1, 2011, Whitley was replaced by Major General Mary Kay Hertog. On June 13, 2012, the Department of Defense announced that Major General Gary S. Patton would become the new director of SAPRO in July, following the retirement of Hertog.
One of the protagonists of the film, Kori Cioca, is featured throughout the 95 minutes running time. She epitomizes the frustration that she and others have endured as a result of bad policies, red tape, and intentional neglect. Beaten and raped by a supervisor who had continually harassed her while she served in the Coast Guard in Virginia, her claims for payments to cover the costs of reconstructing her dislocated jaw have been repeatedly denied. The VA doctors tried to alleviate her PTSD with a cocktail of improperly dispensed medications. In addition, she was charged with adultery because her assailant was married.
The film's press material contends that the military currently has a "practice of diagnosing victims of sexual assault with personality disorders and then discharging them from the military without being eligible for benefits."
Being drugged, raped, and threatened with death if charges are brought; having a gun put to one's head and being raped five times in two weeks with a resulting pregnancy and a case of gonorrhea—these are a few of the traumas detailed. In seeking redress, the injured party must have the fortitude to withstand a second round of overt mistreatment and calculated retaliation designed to affect career trajectories.
Sen. Claire McCaskill (D-MO) and Defense Secretary Leon Panetta are seen calling for zero tolerance. Members of Congress including Rep. Louise Slaughter (D-NY), Rep. Loretta Sanchez (D-CA), Rep. Jackie Spier (D-CA), and Rep. Ted Poe (R-TX), speak about their efforts to push for changes.
The film's team has organized a social media model of action to promote screenings through a grassroots movement targeting public awareness. The Invisible No More Coalition has been reaching out with the goal to "end sexual assault within the U.S. military and to help survivors of Military Sexual Assault heal." They are calling on "civilian and military leadership to listen. And to act."
There are an untotaled number of citizens who enlisted to serve their country, and instead found themselves in a nightmare where assailants could be awarded promotions while they were left wrestling to reconstruct their lives.
As one MST survivor says about her ordeal, "It's a struggle everyday. It's completely changed who I am."
To learn more about taking action, visit Invisible No More.
Photos courtesy of The Invisible War
This article originally appeared on the website cultureID.