Maria Shriver in Transition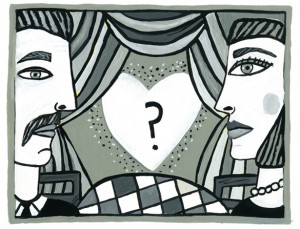 For whatever reason, there are private events that happen to public figures, which become watershed moments for the general population.  They act as a litmus test for the national sensibility. People weigh in, as if reacting to a referendum.  Often the issue resonates on a very personal level, bringing up situations that as individuals we might have faced personally. While some judge from the luxury of being outside the actual experience and attendant circumstances, others are empathetic.
It's been almost three weeks since the May 9th news of the Shriver —Schwarzenegger split.  I was working late and first saw the report on my Twitter feed.  I clicked on a link and read the terse joint statement.  After twenty-five years of marriage and four children, the couple was "amicably separating." They were living apart while they worked "on the future" of their relationship.  The following day, the New York Times had a short article, deep into the first section, with the curious headline, "Schwarzenegger and Wife Say They Are Separating."  I found it very strange that Maria Shriver's name was omitted, and that she was relegated to the simple nomenclature of  "wife."  The piece pointed out that Shriver had been instrumental in pushing Schwarzenegger over the top in his 2003 quest for the California governorship.  How?  By specifically defending him against allegations in the Los Angeles Times, detailing incidents of groping and inappropriate sexual behavior by six women in the Hollywood community.
My reaction to the breakup was shock, yet I was not totally surprised.  Throughout the years, my own opinion about their bond was always in the realm of incredulity.  I just didn't get it.  The totally disparate politics would have been too much for me to get past.  The standard response to the coupling was the sexual attraction card. I didn't relate to that either. Schwarzenegger's thick-necked, cartoon muscularity struck me as totally unappealing.  I remember reading an interview with Shriver where she related that Schwarzenegger had once told her not to depend on him for all of her happiness and fulfillment.  The concept had validity, but it didn't come across as very friendly.
With the revelation that Schwarzenegger had fathered a child born five days after his youngest son with Shriver, the story moved to the front page.  Those looking for a reason to explain the sudden divergence of paths got an unambiguous one.
In response to the scenario, everyone will bring their own emotional histories and perceptions to the table.  Some have criticized Shriver for not giving more credence to Schwarzenegger's accusers back in 2003.  They have portrayed it as the "stand by your man" syndrome.  Others have pointed out that the dynamics in a marital relationship are never that easily dissectible.  Elizabeth Edwards and her choices were a case in point.
Shriver has been doing activist work in the field of women's concerns.  She created The Women's Conference, has been on the front lines speaking about Alzheimer's disease, and has promoted equality for those with special needs.  She has written numerous books addressing these topics.  She has spoken movingly about the death of her best friend — her mother.  She became an orphan when her father died in January of this year.  With the premature demise of several cousins, loss is not new to her.
I remember her wedding.  It was the same year as Caroline Kennedy's nuptials, and five years following the Charles and Diana extravaganza.  Like other women across the country, Shriver has evolved from a bride — to a woman who has transversed decades of life experience.
Shriver's next steps will be closely watched.  How will she deal with her grief, sacrifices, adjustment, and entering a new phase of life?  Yes, she has money, famous friends, and plenty of connections — but at the end of the day, she's another woman approaching 60, trying to redefine her life.
Schwarzenegger's concept of not basing your happiness and security on any one person makes solid sense.  However, I doubt that Shriver expected to learn that lesson in such a difficult and exposed way.
A recent op-ed discussed the ambivalent feelings Shriver had about relinquishing her broadcasting career when Schwarzenegger took office.  Shriver recently posted a video on You Tube, asking other women to speak about how they deal with transition.
At this point, Shriver no longer has to bow to convention.  It's been clear in other circumstances that she has her own voice.  Now, she may feel totally liberated to use it.  She has a strong example of resilience from her mother, Eunice Kennedy Shriver, to build on.  I look forward to seeing the contributions that she will be making to society, and the new horizons she will be pursuing.  Her high profile puts her in a place where others will look to her as an example.
I don't doubt that she will find her footing, and come out stronger on the other side.
Illustration courtesy of Marcia G. Yerman.

This article originally appeared on the women's health site EmpowHER