"Moms Clean Air Force" – Fighting for the Environment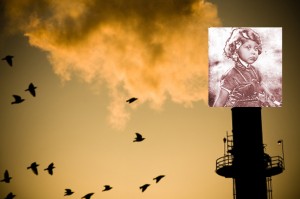 With the news out of Japan about the potential effect of radiation on the population following the earthquake/ tsunami's impact on their nuclear power plants, Americans are starting to ask themselves some tough questions.  About weather, about energy, about our natural resources and how to protect them.
Why does it always take a disaster to get people's attention?
In the United States, we face our own problems.  Most recently, there have been calls by elected representatives to defund the Environmental Protection Agency (EPA).  However, most Americans do not support this move.  The American Lung Association conducted a bipartisan poll which showed that the public trusts the EPA to protect their health.  Moreover, 69 percent believes that the EPA "should update the clean air act standards with stricter limits on air pollution."
On March 16th, the EPA "proposed the first-ever national standards for mercury, arsenic and other toxic air pollution from power plants."  The goal is to reduce mercury emissions from the electricity sector. The New York Times has already weighed in with a supportive editorial, "Long-Delayed Rule for Cleaner Air."
Mercury — an air toxin — is particularly harmful to children.  It is a neurotoxin that impacts the developmental ability to talk, walk, and learn.
The final standards will be decided in November of this year.  The public has an opportunity to be proactive on this issue and make their voices heard. Citizens have several easy options on how to send in their thoughts and comments.  They are:
E-mail:  Comments may be sent by electronic mail (e-mail) to a-and-r-docket@epa.gov, Attention Docket No. EPA-HQ-OAR-2009-0234.
Fax:  Fax your comments to:  (202) 566-9744, Docket ID No.  EPA-HQ-OAR-2009-0234.
Regulations.gov website (http://www.regulations.gov).  Follow the instructions for submitting comments.
EPA Air and Radiation Docket website: ( http://www.epa.gov/oar/docket.html).  Follow the instructions for submitting comments.
I have written about issues dealing with toxins and public health previously, from coverage of the Safe Cosmetics Act of 2010 to a five-part series on the Gardasil HPV vaccine.  Recently, the Moms Clean Air Force, has invited me to be part of their blogging team, to bring awareness to the work of the EPA and the Clean Air Act. I'm jumping in with both feet, knowing that these posts will have a readership hungry for information and facts. (Disclosure: I am receiving a small honorarium for my participation.)
You will find a new vertical on my site titled "Environment," where I will be archiving all my pieces.  I plan to keep my eyes and keyboard focused on all things EPA, from their activities examing wastewater as the result of natural gas drilling — to New York City issues like PCBs in school lighting fixtures.  Everything is interrelated — from the way we choose our power sources to how we integrate green choices into our lives.
If we can't keep the health of our families and the planet safe, not much else will matter.
Image Courtesy of RVR Associates