'My Name Is Sara' — A Portrait of Endurance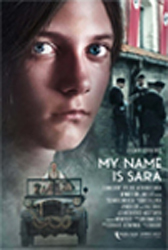 Courtesy: Strand Releasing
"My Name is Sara" is based on the life of Sara Góralnik (1930-2018), a pre-teen Jewish girl who passed as a Christian during World War II. It was produced in association with the USC Shoah Foundation.
It is presented in the tradition of "Europa Europa," as each film chronicles Jewish youngsters who must hide their true identities to outlive the Holocaust and the madness around them.
Director Steven Oritt has employed an approach that is universalistic while also being specific.
Most of the narrative takes place on a Ukrainian farm. Scenes of the larger community, including the town center, feel particularly relevant in the context of the current war. The Ukrainians are abused by German and Russian forces. Partisans, who justify their actions with a righteous cause, are no less cruel.
Read the full article at the Times of Israel Blog.