The Mindfulness Movement: Promoting Social Change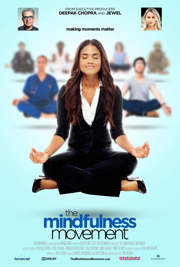 Just in time for the exacerbated stress and anxiety brought on by the coronavirus pandemic, a new documentary, The Mindfulness Movement (originally slated for theater release) is available to stream online or buy.
The 100-minute film, co-produced by Deepak Chopra and the musician Jewel, gives an introduction to using the breath as an anchor to redirect thought patterns by "focusing on the present moment in a non-judgmental way."
Director Rob Beemer anchors his look with four personal narratives, which are combined with interviews from pioneers in the field. Beemer has emphasized his goal as bringing "secular mindfulness" to a larger audience. He wants to lessen "misconceptions" about the subject and illustrate the body of scientific research that has evolved and underscores the efficacy of a mindfulness practice.
It is striking that numerous people in the scientific and medical arenas gravitated to the same path of inquiry during the 1970s, despite discouragement from colleagues that their choices would be a career killer.
Daniel Goleman, a science writer for The New York Times and author of Emotional Intelligence, is on-screen to discuss "neural circuitry" and how tests demonstrate the difference in the brain after a subject does the continued "weight lifting" of an ongoing meditation practice. Goleman rejected the traditional route of clinical psychology. He wanted to examine the "upside of human potential" employing scientific evidence. He recognized how mindfulness enabled people to be triggered less and recover more quickly. Goleman also identified how it slowed brain aging.
In 2017, Goleman teamed up with Richard Davidson to write Altered Traits: Science Reveals How Meditation Changes Your Mind, Brain, and Body.
Davidson had met the Dali Lama in 1992, and it changed his personal and
work trajectory. The Dali Lama suggested to Davidson the concept of using the systems and approaches of neuroscience to study "compassion and kindness" and to "bring those practices into the laboratory." They developed an enduring friendship. Davidson is the Founder and Director of the Research Center for Healthy Minds. (Read his thoughts on "COVID-19 and Our Common Humanity.")
When Jon Kabat-Zinn was on-site in a hospital, he wanted to integrate the research he was doing with Mindfulness Based Stress Reduction (MBSR) and share his findings with the medical staff. Given the opportunity to work with patients, he said, "In eight weeks you could see people transform." Kabat-Zinn went on to found the Stress Reduction Clinic at the University of Massachusetts Medical School.
He qualifies mindfulness as: "The actuality of things as they are; not as I would want them to be." He has defined it as "an ethical practice."
Starting his career as a medical doctor, Deepak Chopra became chief of medicine at New England Memorial Hospital. However, his dissatisfaction with the institution and protocols of Western medicine pushed him to move into the area of mind. His interest was in discovering how people could maintain an internal "equilibrium despite external factors."
The original prism of traditional medicine felt lacking to these practitioners. They all ended up on parallel paths, investigating and accessing how a consistent practice of mindfulness meditation rewired and restructured the brain. The key was to reorienting awareness by "directing attention back to the breath."
Different elements of society have already gravitated toward using the modality to shift consciousness. Beemer digs into examples from inner city school kids to police officers and veterans.
In West Baltimore, children are learning "positive life skills" and are encouraged to leave the classroom and go to the "mindfulness moment room" if they need to reorganize themselves. It's a huge difference from a trip to the principal's office. The Holistic Life Foundation, originators of the concept, now works with 7,000 students at forty Baltimore schools. The philosophy is, "It has to start from within, and then move out to the larger community."
The premise has been adopted by law enforcement, prisons, and with veterans. For police, it's about "building skills that cultivate a whole new way of being." For those who are incarcerated, it's being given an opportunity to evaluate who they want to be when they get out.
Gail Sofer, founder of the Mindful Veteran Project, developed her initiatives when she learned that fifteen to twenty-two veterans were committing suicide per day. It's about "hacking the system and the ingrained behaviors," she said.
Meditation tools are also used to break apart the gridlock of emotional and stress eating, and to tackle smoking cessation. In the same vein, self-compassion is taught to cancer patients.
The individual stories related give depth to the science and the stats. Jewel, who speaks about her experiences and the emotional "inheritance of an abusive family life," now works with at-risk teens. Having suffered from panic attacks and homelessness, her evolution is grounded in lived experience.
George Mumford, author of The Mindful Athlete, recounts how his basketball career became derailed after an injury. The use of painkillers soon morphed to the use of alcohol and harder drugs. Then he became involved in navigating the mind/body process, and studied with Kabat-Zinn. He used his insights to work with sports teams, including coach Phil Jackson and his players. Mumford's mantra was: "Mindfulness makes you flow ready." He continues to advise individual athletes and lineups to manage the moment while "doing the thing for in and of itself."
Co-founder of the Insight Meditation Society, Sharon Salzberg, also came from a history of family dysfunction and trauma. She traveled to India in 1971 after taking a philosophy course that included Buddhism. She describes the Sharon of those years as being "extremely judgmental." Her journey of discovery had her question herself about what she was feeling. Learning to have self-compassion led to understanding the need to extend compassion to others. Metta, or loving kindness, became a cornerstone of her teaching about friendship — toward oneself and to others. She states, "Everybody counts and everybody matters." (Check out her Election Season meditation.)
Considering the politically fractured state of America, as well as the larger world, it was encouraging to learn that Congressman Tim Ryan (and former presidential candidate) not only follows a contemplative practice, but is also a believer that it may be a way out of the current hyperpartisan conundrum challenging America. He wrote about his ideas in A Mindful Nation.
As Americans and the world face a major health crisis, a new reality is presenting the opportunity to examine the choices we have made — on both a personal and global scale.
Many of the speakers in the film suggest that five to ten minutes per day of mindfulness meditation can create the "next big public health revolution." Are enough people interested in cultivating compassion and building awareness about how their beliefs can add to activating a social change shift?
As Oprah Winfrey suggests, "It's an entry point."