Crossing Brooklyn: Art from Bushwick, Bed-Stuy, and Beyond
On October 1, I had the opportunity to preview Crossing Brooklyn: Art from Bushwick, Bed-Stuy, and Beyond, with a press walk-through led by the curators, Eugenie Tsai and Rujeko Hockley. In addition, several of the artists were in the galleries to give brief talks and insights into their work.
The Brooklyn Museum prides itself on being in touch with the borough's wide-ranging neighborhoods. Beyond offering its permanent collection, the museum has shown a commitment to being an active part of the community.
When Tsai and Hockley gave an overview of their process in organizing the exhibit, Tsai noted that the museum has "a history of supporting local artists," and that Crossing Brooklyn was the "latest iteration of the pursuit." Over one hundred studio visits were made during the summer of 2013, with an eye to representing artists from diverse backgrounds, ages, career points, and locations. Hockley said, "We were literally everywhere." Not surprisingly, artist enclaves have sprung up in tandem with affordable real estate. Hockley remarked that there are "now more artists in Bed-Stuy than in Williamsburg."
The curators related their goal of focusing on artists who were "engaged with the world in a particular kind of way." As a result, a majority of the artists shown examine questions within a format that expands their work outside typical boundaries. Numerous presentations reveal the artist as an amalgam of creative, cultural observer, and social scientist. In many instances, contemporary digital and Internet tools are engaged. On the other hand, a "traditional" sculpture of a horse is turned into an interactive object, when the viewer pins a "contribution" of their choosing to the statue's base.
Tsai spoke about concentrating on artists who were working "out of the studio," and the "variable concept of exploring where art can be made and located." As a result, several threads ran through the show. One was a consciousness of the environment—our place in it, and how we use it or exploit it.
Mary Mattingly looks at patterns of consumption. Wrapped into a massive object held together by twine, Mattingly combined elements that include personal items, books, electronics, and a sly insertion of an Art in America magazine. The obsession with constantly updating electronics, without regard to the origins of the resources or those tasked with producing them, is alluded to. The extent to which we imbue our belongings with significance is captured in her totemic models.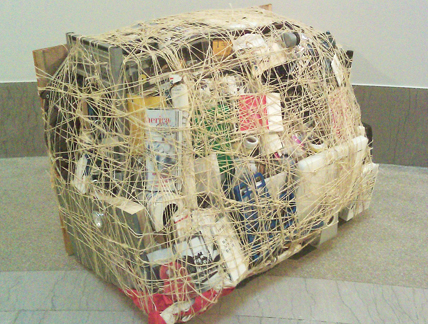 Mary Mattingly
    Cube, 2013
          Mixed Media (Twine, Personal Objects)
Matthew Jensin, who has been termed "a conceptual landscape artist," was in New Hampshire when he formulated his series Winter Walks. On daily outings, he collected twigs, leaves, branches and related ecological materials in order to chart events, the weather, and his emotional state.
On the urban front, Yuji Agematsu gathered detritus that he found on the streets of the lower East Side, Soho, and Crown Heights. He explained his process as selecting pieces that "spoke to him." Agematsu then archived, "cured," and transformed his findings into a record of artifacts reflecting contemporary society. They were pinned to a foamcore sheet, and then laid on a table. Like Jensin, he reacts to seeing "elements of art" that occur in everyday life.
Zachary Fabri  engages in what he calls "walking as art action." A residency in Brazil brought him to an iron mine site. The ubiquitous presence of the mineral, red hematite, became the portal through which he examined the interaction between man and natural resources.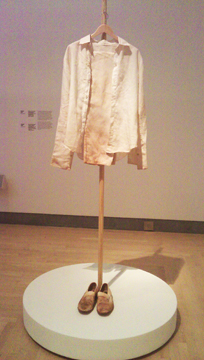 Zachary Fabri
Mim Andar Avenida Canada (I Walk Canada Avenue), 2010
Hematite, Hand-made Linen shirt and pants Leather Shoes, Clothing Rack
5.75′ x 17′ x 12′
The reflection upon personal and cultural identity, and questions arising from that construct, are central to an installation by Brendan Fernandes. He talked about his background as an ethnic Indian, who was born in Kenya and moved to Canada in 1989. He used the jumping off point of both African masks found in a museum setting, and "replica" masks sold by street vendors, to delve into the perceived "exoticism" of Africa. Part of that investigation including a look at "migration and movement, cultural economy, hierarchy and language." Top on his list was the initial question of what do the masks embody, once they are "emptied of their context and content."
The Obama Skirt Project, envisioned by Aisha Cousins, is an investigation into how African-American women were impacted by the election of Barrack Obama. Employing the African tradition of using textiles to "commemorate" a specific event or person, Cousins started her project by wearing dresses incorporating Obama's visage for a twelve-month period. She sought out African tailors located in Brooklyn to sew the articles of clothing. Cousins then expanded the scope of the undertaking by inviting women to have their own garments made.
Aisha Cousins
The Story Skirt Project, 2010
Fabric
Yoko Inoue also engaged in community collaboration. In Brazil, she began with the the Portuguese word corrente, which means "chain." Inoue constructed fabric chains through an interaction with residents. They were encouraged to give her a scrap of fabric from their clothing, in exchange for a cup of free ice cream that she purchased from a local vendor. Inoue set up a workstation in front of the shop, where the swap took place several times per week.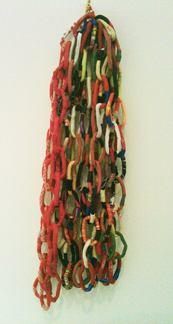 Yoko Inoue
                                                           Nós, 2011-2012
                                                      Fabric Chains (Detail)
Reaching into the heart of the Brooklyn equation was the tableau by Pablo Helguera. It enshrined the personal history of East New York resident Susannah Mushatt Jones, daughter of Alabama sharecroppers, who is 115 years old. Viewable through a window are objects chosen by Helguera from the museum's collection, which are dated 1899, the year of Jones's birth. Along with these items are personal mementos that belong to Jones, such as her high school photograph.
For those seeking painting, Cynthia Daignault provides 365 oil on linen canvases, each 10 inches by 15 inches. They are set up on three walls which form an enveloping U-shape. Initiated on a July day in 2012, when a person close to Daignault began a prison sentence, the endeavor became a meditation on the passage of time. The paintings are placed in chronological order. Daignault captures specific moments in the particulars of the sky, which mirror the subtle gradations that take place in one's daily life, often overlooked or taken for granted.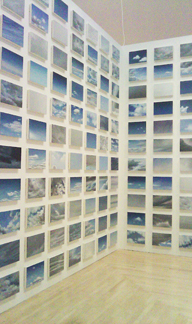 Cynthia Daignault
I love you more than one more day, 2013
Oil on Linen (Detail)
Each Canvas: 10″ x 15″
The press release for the show qualified the work in Crossing Brooklyn as "nontraditional." The exhibit may not be everyone's cup of tea, and the use of the term "Major Survey" may have precipitated some pushback. Regardless, there is plenty to contemplate.
Crossing Brooklyn: Art From Bushwick, Bed-Stuy, and Beyond
Through January 4 at the Brooklyn Museum
Check calendar for performances and public programs