Older Women Take on the Challenges of Life, Love, and Sex
With the baby boomers (those born from 1946-1964) aging in increasing numbers, many books are being written to help them navigate the terrain of ageing. For women specifically, there are an abundance of titles that tackle issues from the nuts and bolts of older sexuality to their inner emotional lives.
Three books that fall on this continuum which overlap, while still standing solidly in their own sphere are: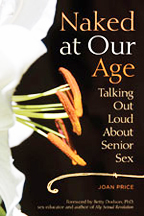 Price drills down on sexuality after sixty, leaving no stone unturned. Solitary sex, nontraditional practices and relationships, moving forward after divorce and breakup, sex after illness, and painful sex are some of the topics covered. Encompassing the concerns of men and women, straight and gay, she informs readers early on that "sex might not feel or look the way it did when our hormone rush propelled us into jet-stream sex, but it can be highly arousing and satisfactory."
Having communicated via a questionnaire with readers of her books and blog, Price chose the recurrent themes as her subjects. She then interspersed individual stories culled from her correspondence with advice and facts from specialists.
One of Price's key takeaways is that it's important to revive desire and to make time for sex. Top on her list is getting over not looking the same as when you were a twenty-something. She points out the health benefits to sexual activity (solo or coupled), and they are numerous:
Hormones released during sex decreases the rate of breast cancer
Sex can alleviate chronic pain, including migraines
Protection against heart attack and stroke
Immune system bolstered
Sex can protect against depression
Sex can reduce stress and increase self-esteem
Price explains the physiological aspects of achieving orgasm as women age stating, "We get less blood flow to the clitoris and vagina, and the vaginal walls get thinner." For this reason she is a strong proponent of sex toys for women, single or partnered, as they "can mean the difference between orgasm or not." She clarifies, "Vibrators increase blood flow to [the] genitals quickly and powerfully." Price is also definitive about taking responsibility for your own sexual health through masturbation, applying the "use it or lose it" philosophy to pleasure and comfort. Inactivity can cause vaginal muscles to weaken over time. Women must have penetration via "fingers or a dildo to keep vaginas healthy." Price communicates that otherwise tissues will become thin and fragile "leading to lesions and burning sensations."
Unfortunately, when women look to physicians for answers on pain during intercourse or vulvar pain, it may not be an area the practitioner feels comfortable discussing. Price references the Pelvic and Sexual Health Institute as a resource. As unresolved problems can lead to "relationship conflict," Price underscores the importance of talking about sex with partners, especially for those who have been leading solo life styles and may be accustomed to a set way of doing things. Although Price advises, "Listen to other's concerns," she adds without a beat, "It's important to ask for what you want."
Focusing on responsible behavior, Price places the message of safe sex front and center, repeatedly beating the drum that protecting your sexual health is tantamount. Only one in five sexually active adults over 45 reports using a condom with regularity. In 2005, the CDC reported that adults over the age of 50 accounted for 15 percent of all new HIV/AIDS diagnoses. Older women with thinning vaginal lining are at a higher risk. (Price provides the website for the female condom.)
In Suzanne Braun Levine's book there is plenty of straight talk on sex, but her insights on developing a "new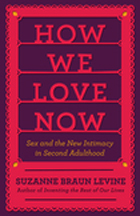 emotional vocabulary" are particularly valuable. Pointing to readjustments and realignments that can occur during a period of "turmoil, self-doubt, and confusion," she coins the phrase, the Fertile Void, a concept Fonda will embrace. Levine defines the age span of 50 to 75 as a Second Adulthood, when there are opportunities for new intimacies and companionship along with revised parameters. "Loving" as opposed to the traditional concept of "being in love" leads to a redefinition and new models of intimacy.
When Levine served as an editor of Ms. magazine in the 1970s, a popular aphorism was, "If one woman was experiencing something, it was certain that other women were too, only they were not talking about it." In compiling her narrative, Levine conducted interviews and received input from feedback to questions.
Levine promulgates the theory that when women allow themselves to let go of the fairy tale fantasy of rescue and move toward a goal of self-empowerment and un-neediness, they are able to embrace "interdependence." For Levine, Second Adulthood is about "revising, reenergizing, and rediscovering intimacy in our lives and finding places we hadn't looked before." This can include a "reorienting" of one's sexuality, age gap relationships, and exploration for married couples to find fresh ways to meet their physical and emotional needs.
Going out of the comfort zone and risk-taking are part and parcel of building new intimacies. The road from dependence to independence to interdependence is part of the journey toward finding a peaceful place of reconciliation between "conflicts of past and present, work and love, who you are and who you thought you should be."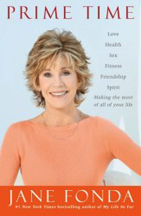 This thread is examined in Prime Time. Fonda marries her own evolutionary struggles with self-acceptance to advice on sexuality, dating, spirituality, financial planning, and living wills. The preparatory attitudes for the latter concerns don't feel depressing, merely pragmatic.
Fonda, an early innovator in the fitness space, provides an appendix with exercises, anti-aging research, and healthy eating tips. She is a strong supporter of regular aerobic activity (at least three times per week for twenty minutes), pointing to how workouts release endorphins, minimize stress, and are good for brain health and memory function. Fonda addresses "body awareness," recounting her struggles with anorexia and bulimia. She writes, "When we are cut off from our bodies, our thinking becomes disembodied."
As concerned as Fonda is on physicality (including the importance of Kegel exercises—squeezing and releasing vaginal muscles 200 times per day!), she devotes equal time to inner contemplation. She suggests undergoing a "Life Review" to examine the past—in order to use that knowledge moving forward. Fonda shares her own epiphanies on how certain aspects of her life weren't making sense anymore. Part of that stemmed from ignoring feelings of discord in her relationships—out of fear of being alone.
Price, Levine, and Fonda disseminate practical information with a new way for women to contemplate their futures. Reframing a slice of the life cycle that has previously been viewed through a negative lens, Fonda puts forth the visual imagery of a stairway leading upwards in an ascent toward continued growth.
It's a good direction to be headed in.
This article originally appeared on the women's health site EmpowHER.