Women in the World Summit 2012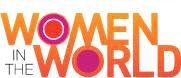 On Saturday, March 10, the final morning of the Women in the World Third Annual Summit, The New York Times featured a four-column photo of Christine Lagarde, director of the International Monetary Fund with Chancellor Angela Merkel. The title was, "German Leader and I.M.F. Chief Split Over Debt." Lagarde had been in Manhattan the previous evening for an interview before delegates at Women in the World, where she answered questions covering the global economy, the I.M.F., and her personal life challenges.
The conference formula, which employs the tagline "Stories + Solutions," is to present an amalgam of visibly powerful women, emerging leaders, and courageous activists striving to make a difference. Partnering on the proceedings are organizations doing work to impact women's lives, including Women for Women, Vital Voices, United Nations Foundation, and Virtue Foundation.
The Women in the World Foundation, which was launched in 2011, has created a network of over 300 nonprofits. In addition, it has launched "Get on the Map," convened women judges to discuss gender and constitutional law, and put into play Women in the World on Campus.
This year, the event was opened up to the public, with ticket revenue going to the Women in the World Foundation. The choice of venue was influenced by the expected increase in turnout. At Lincoln Center, audience numbers were said to have hit 2,000. The morning when Secretary of State Hillary R. Clinton was on-site, the orchestra and balcony rings of the David A. Koch Theater were full. (Yes, that Koch, dryly noted by Gloria Steinem during her panel appearance.)
Leading the proceedings was Tina Brown, Editor in Chief of Newsweek and The Daily Beast, and the force behind the Women in the World brand.
Thursday night, which fell on International Women's Day, showcased the issue of forced marriage for more than 500 British girls each year—promised to spouses in their parents' countries of origin. Sabatina James, originally from Pakistan, told of telephone help lines that advised girls on flights out of the country to, "Put a spoon in your knickers, literally," so that airport metal detectors  would cause them to be alone in a room with authorities. Jasvinder Sanghera, founder of Karma Nirvana, related running away from her family to avoid a forced marriage. She was warned, "You are now dead in our eyes." Sanghera has had no contact with them for thirty years.
Sandra Uwiringiy'imana, a photographer and survivor of the Gatumba genocide, movingly recounted her personal history to Charlie Rose. She told him, "Hatred doesn't solve a thing. Justice must be fought for and demanded, even from a teen like myself."
Rose also interviewed former U.S. Secretary of State Madeleine K. Albright about the "The Price of War" for women. She is currently authoring a new book on the importance of standing up to totalitarian regimes. A "child of World War II," Albright got out of Czechoslovakia at the age of two. She used the word "grateful" to describe herself, and reflected upon how she was shaped by her family's experiences. While tracing her background, Albright learned that her parents were converts to Catholicism and that her grandparents had died in Nazi concentration camps. "They were," she said, "killed not for what they had done, but for who they were." A "responsibility to protect" has become foremost for Albright. She believes that women try harder to avoid conflict and build consensus, but that there are not enough women in decision making positions. When asked by Rose why there were still so few women in power, she responded with the terse, but humorous response, "Men."  In answer to the suggestion that there weren't enough qualified women who could serve in office, Albright proffered a colorful one-word response that was received with hearty applause.
The evening culminated with a "Testimony" reading of the words of Dr. Hawa Abdi, delivered by Goodwill Ambassador for the United Nations, Angelina Jolie.
Friday featured Leymah Gbowee, a co-host of Women In the World. One of the three women to be awarded the 2011 Nobel Peace Prize, Gbowee was instrumental in bringing peace to Liberia and has since founded Gbowee Peace Foundation. With her dynamic personality and insistence on speaking truth to power, she is a riveting presence. Interviewed by Brown she stated, "It's time for women to stop being politely angry. No more kneeling down in front of men asking for peace—or anything else." She offered her description of a victim as someone who "waits for a knight in shining armor."
"Changing the Minds of Men," anchored by Christiane Amanpour, examined the fate of Afghan women and girls as United States forces prepare to pull out. The focus was on the role men would play in facilitating a mindset transformation. Although 25 percent of the country's elected representatives are mandated to be women, the picture didn't feel encouraging. Zainab Salbi, founder of Women for Women, imparted that at a meeting with Hamid Karzi, he told her that women would have to compromise on "mobility and dress."  Present on the panel was Bibi Hokmina, an elected member of the Provincial Council for Eastern Afghanistan. She was clothed as a Pashtun man. (During the Soviet war, to insure her safety, her father dressed her as a boy.) Hokmina's response to the potential integration of the Taliban into the government was, "They don't want women in the process." She called on the United States, which "has the power to make a difference," to protect women's rights. Undeterred, she said, "We must stand on our own two feet. Who are the Taliban? We will fight for our country."
Perhaps the most emotional wrenching conversation outlined the extreme vio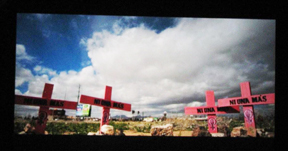 lence being perpetrated against women in "Murder and Machismo: Women in Peril in Latin America." It began with a woman seated with her back to the audience, to protect her identity. She recounted  how she had been recruited by a trusted person for a well paying job while she was a student. Instead, she was trafficked into the commercial sex trade and forced to service thirty men a day. As a sexual slave, she was sold to drug cartels and transported to different locations for five years. She escaped during a police raid. She said that the other women enslaved with her were from diverse backgrounds—from as far away as Eastern Europe. There was an inappropriate misstep by the moderator, apparently unaware of the basics of human trafficking. He asked, "Have you ever thought of going back into prostitution?"
One of the key words used during the session was the term "impunity." Sylvia Gereda, Founder and Editor in Chief of Informe Especial, Guatemala's first investigative journalism show on television, spoke in graphic terms about the femicide in her country. In addition to murder, women have been raped and tortured. The violence and aggression have roots in the thirty-year civil war where brutal methods were used against the indigenous Mayan female population. Currently, 7,000 women have been killed and ten people have gone to jail. Gereda commented on the Guatemalan "culture of silence." To maintain a deliberate atmosphere of fear, the decapitated heads of women have been sent to government officials and representatives seeking to stop the violence. Despite potential harm to her personal safety, Gereda was stalwartly resolute. She reflected, "Being a journalist and having a voice is a gift. As Gandhi said, 'If not me, who?'"
"Women in Combat: Fighting on Two Fronts" tackled the important role of women in the military on the ground in Afghanistan—juxtaposed with the dangers they face from within their own ranks. Switching gears from learning how servicewomen have made inroads with the Afghan population, winning hearts and minds while gathering "actionable intel," were the staggering stats of how many women have been attacked by their fellow soldiers (500,000). The numbers are unreliable because so many incidents go unreported, as women are revictimized if they do inform military authorities. Rep. Jackie Speier, who has been actively working on the matter, offered that by "sweeping [the problem] under the rug," Congress has been complicit in the non-action.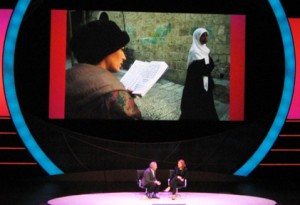 There was a confluence of themes in both the interview with Tzipi Livni, the Israeli Opposition Leader, and a panelist from "The Arab Spring: Have Women Lost?" As the latter observed, "The problem is with those claiming to speak with the voice of God—whatever the religion."  Livni responded to questions about the Orthodox fundamentalists in Israel who are trying to make women second-class citizens. She asserted her firm belief in the supremacy of secular law over the mandates of rabbinical authorities. Dalia Ziada, the Egyptian director of the American Islamic Congress, who was  in Tahir Square and now finds herself being marginalized, said emphatically, "There is no spring without flowers. There is no revolution without women."
Saturday's gathering packed a ton of content into a half-day. Andrea Mitchell helmed "A New Dawn for World Leaders." The president of the Republic of Kosovo, Atifete Jahjaga, was present. She is now a member of The Council of Women World Leaders. Margot Wallström, Special Representative of the Secretary-General on Sexual Violence in Conflict, discussed how being a woman in a war zone was more dangerous than being a soldier due to the use of rape as a tool of war. Kah Walla, President of the Cameroon People's Party, elaborated on the tradition of women in leadership in her country's culture—and how some of that had been lost through "colonization." However, she affirmed, "Strong women prevail." Walla pointed to her belief that women in world leadership had not reached critical mass. She emphasized that globally, women must be elected. She suggested that women in Egypt had not been formally organized and therefore had been pushed out of the picture.
On the national level, Mitchell commented on the "old boys club of Congress," with Jane Harman adding sharply that the glass ceiling was really "a thick wall of men."
Back to update her work to end female genital cutting in Senegal, Molly Melching, Founder of Tostan, talked about engaging the whole community through "the cooperation of men" to fight FGC, child marriage, and domestic violence. She was joined by Iman Demba Diawara, a Village Chief and grassroots leader in Senegal. His turning point occurred after he sought out the opinions of religious men—and discovered that there was nothing in Islam that called for FGC. Diawara's efforts have led to over 5,000 communities in East and West Africa relinquishing FGC, and he believes that the practice could be ended by 2015.
After the break, a full ninety minutes was devoted to "Girls in the World." Leading off was the impressive 17-year-old Talia Leman, the founder of RandomKid.org. She has raised millions of dollars for Katrina relief and is now mobilizing young people who want to be agents of change. Her advice, valuable for any generation, was, "You don't have to become someone. You already are someone!"
Chelsea Clinton moderated "The Digital Lives of Girls," which showed how the online space is being used proactively. Noorjahan Akbar, Co-Founder of Young Women for Change, has opened an Internet Café in Afghanistan, to expand Internet access and bring a voice to Afghan girls and young women. Emily-Anne Rigal, founded WeStophate.org, Shelby Knox is the Director of Women's Rights Organizing for Change.org, and Julie Zeilinger is the Founder of The FBomb. Zeilinger was spurred to action when, as a freshman in college, she found herself constantly explaining feminism to others. Crystal Ogar, activist, feminist, womanist, and blogger for Spark Summit, was vocal about the "over-sexualization of young girls—even in cartoons." Pushing back against the negative feedback that is part and parcel of operating online, Kabar said, "For every hateful voice, there is a positive voice."
The closing session was devoted to "Burma: A Door Opens." Melanne Verveer, U.S. Ambassador-at-Large for Global Women's Issues, and Zin Mar Aung, a recipient of the 2012 International Women of Courage Award, assessed the future of democracy in Burma. Mar Aung was imprisoned for eleven years for handing out leaflets in support of Aung San Suu Kyi. Most of that time was spent in solitary confinement. She told the crowd, "Somebody can imprison your body, but not your mind."
There was palpable excitement in the house leading up to the final half hour, which featured Hillary Clinton, preceded by an introductory tribute from Meryl Streep. Brandishing her Academy Award, Streep said of the Secretary of State, "I'm an actress. She's the real deal." Streep underscored how Clinton's stewardship of the State Department had created a "big shift in thinking." She illustrated the point with the fact that Clinton had implemented the need for data on concerns such as the fertility rate in nations, with the objective of monitoring if children would be adequately fed. "Never give up. That's what Hillary Clinton embodies," Streep said to rousing applause.
Clinton received a standing ovation. With a relaxed demeanor, she made a few jokes before she drilled down on the work that still had to be done. "Tina Brown has allowed people to see what I see all the time—meeting women and girls who are taking a stand and assuming risks." On the activists present she said, "They are watering the seeds of democracy. There is much we can do together. You can look around the world today and see the difference women are making." Acknowledging her admiration for the conference participants, she said, "It's not just who they are, but what they do. They roll up their sleeves."
Clinton referenced the women in Egypt and Tunisia, and then tied it back to the current domestic landscape. "Women must make their own decisions," she intoned. Then after a dramatic pause she wondered, "Why extremists always focus on women is a mystery to me."
Urging the women in the audience to "take action a step further and bring it into their lives," Clinton challenged those present to be part of the solution. She reiterated, "At the State Department, I have made women a cornerstone of our policy." Clinton concluded her comments with a call to mobilize. "So let's go forth and make it happen!" As speakers joined Clinton on stage, the Aretha Franklin anthem "Respect" filled the theater.
An energized group of women made ready to depart, with the mission of sharing and incorporating what they had learned.