"Chimes of Freedom" Celebrates the Power of Music and Activism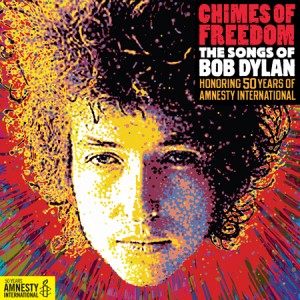 On January 24, 2012, in the United States and Canada (February 4 globally), Amnesty International is releasing Chimes of Freedom: The Songs of Bob Dylan Honoring 50 Years of Amnesty International, a four-CD album set. It will be available digitally and in stores. Over 80 recording artists are part of the endeavor.
They crisscross the demographics of age and style and include Miley Cyrus, Joan Baez, Jackson Browne, Elvis Costello, Lenny Kravitz, Sting, Patti Smith and Pete Seeger. The performers, as well as those on the production and tech side, worked pro-bono. Listening to all of the tracks, it is clear that each singer has brought their unique personality and stamp to the material. A prime example is Ziggy Marley's interpretation of "Blowin' in the Wind."
It's not the first time that Amnesty International has tapped into the music community to raise funds and bring awareness to human rights issues. For this initiative, they have created action links to specific individuals and their plights. One of the focal points of the campaign is Liu Xiaobo, scholar, human rights fighter, and Nobel Peace Prize laureate. Xiaobo has been imprisoned in China since 2009, for his critiques of the Chinese political system and for underscoring governmental corruption in his writing.
Helen Garrett, Director of Special Projects for Amnesty International USA (who was the key producer on the 2007 benefit album Instant Karma: The Amnesty International Campaign to Save Darfur) proposed in 2010 that Amnesty mark its half-century anniversary with a follow-up album. cultureID was able to interview her about the project via e-mail.
In 1961, British lawyer Peter Benenson published an article in The Observer titled, "The Forgotten Prisoners," in response to the plight of two Portuguese students who had been imprisoned for toasting freedom. The action became the seeds of Amnesty International. 1962 was the year of Bob Dylan's first album. He performed at the March on Washington the following year. Can you comment on the parallel paths and threads of commonality between the work of Dylan and Amnesty?
Certainly, for human rights activists, Dylan's early music holds special meaning—he was the protest voice of the 1960s with songs like "Blowin' In the Wind," "I Shall be Released," and "Chimes of Freedom." During that time, there was a sense that if ordinary people joined together, they could have enormous impact to change the world.  And that is how Amnesty was born—one man's belief that individuals together can make a difference. In fact, there is a direct line between Amnesty and Dylan through "I Shall be Released," as the song became the movement's "unofficial anthem" on the finale of each concert on Amnesty International's 1986 Conspiracy of Hope U.S.A. concert tour. Dylan was among the performers.

Of course, Dylan never joined any specific organizations, but his uncanny ability to identify and articulate the temper of the 1960s–and the demands people were making for freedom, justice and dignity—led him to write powerful songs about the human impulses that propel causes like the human rights movement. Dylan's incomparable artistry–his iconic status–is measured against the hope and achievements that I believe Amnesty International as an organization brings to humanity.

Historian Sean Wilentz, who wrote the album liner notes, sums up our thinking beautifully.  He observes that Amnesty for a half century has pressed to secure basic rights for the persecuted and imprisoned across the globe, while during the same time frame, Dylan's art has explored and expressed the anguish and hope of the modern human condition.  "Mistrusting worldly authority," Wilentz writes, "Dylan gives sympathetic voice to the countless confused, accused, misused" people he sings about in "Chimes of Freedom."
Beyond raising funds from the sales of the CDs and individual songs, a primary goal stated by Amnesty is to bring visibility to the issue of free speech, censorship, and the imprisonment of dissidents. Do you expect that Amnesty will be reaching a new demographic about its goals and mission?
We've been engaged with the music community for a very long time– musicians literally helped us to build the human rights movement and increase awareness about the terrible threats that people around the world face as they try to live lives of dignity and attain freedom.

In 1986, as only one example, we launched a two-week U.S. concert tour to mark our 25th anniversary, with stars like U2, Sting, Joan Baez and others.  Through this tour, Amnesty's membership doubled. The albums are a small, but of course important, part of how we engage with musicians.  Bono invited Amnesty to be a part of the U2 360 concert tour and he promoted our work from the stage. We were in the stadiums signing up new supporters and asking them to take action (200,000 did).  Hans Zimmer wrote an anthem for Amnesty's 50th anniversary. After Green Day appeared on American Idol back in 2007 for Instant Karma (singing Lennon's "Working Class Hero") our web traffic spiked hugely, increasing our audience for human rights activism—as well as raising awareness about the atrocities in Darfur and supporting our work there.

Of course we want people to buy the album to support our life-saving advocacy. But we are getting so much more out of this than just album sales, such as the reach of the musicians. They are promoting our work through their fan bases, their Facebook pages, and their Tweets. They direct people to the Amnesty website or Facebook page, which for many becomes a journey of discovery and engagement with us. Miley Cyrus and Kesha both "liked" our Amnesty Facebook page on December 10, Human Rights Day, when we streamed the full Chimes of Freedom album, and more than 100,000 people went to the page. We've seen a spike in our web and social media activity since.

The recording industry is very different today, as is the way people buy and listen to music. But this is a plus for us. The digital music world lets us engage on a new level through social media.  We are promoting six cases of individuals whose rights are being denied through this album, to keep people engaged on the human rights front through social media—spurred by our music projects.
Writers, artists, musicians, and filmmakers are frequent targets of governmental crackdowns. Do you think that this is because of their power to capture the imagination of people through visceral mediums?
When oppressive regimes clamp down on their citizens, freedom of expression—free speech—is always the first thing to go. Dictators have a lot to fear from individuals speaking up—through their writings, through art and film and music.  Authoritarian leaders live in fear of dissent spreading —because if people can keep talking about new ideas, they can start to act on them.  And nothing captures the human need to be free as powerfully as music and art and literature. Isn't that what art and music are at their core—expressing who we are, our individuality, our freedom? Wherever you find a repressive regime, you'll find people writing dissent or satire or drawing cartoons or singing about freedom. As human rights activists, free speech is our main means of fighting oppression. Our power to change what governments and others do to repress rights comes from the voices of people speaking up for human rights—and art and music and film capture the imagination in, yes, the most visceral ways.
Can you address Amnesty International's commitment to recognizing the arts as a powerful vehicle to bring recognition to social and political issues?
Amnesty International is not in the music business, of course. We're in the business of saving lives by standing up for human rights. And in this fight for justice and freedom and dignity, musicians have been our natural allies for decades.  We've also worked with filmmakers, cartoonists, actors and other artists as a powerful way to trumpet the message of human rights. The connection to musicians is one we pioneered—in concerts, albums and by working directly with musicians on issues.  For example, musicians like Big Boi and John Legend were tweeting about the Troy Davis case last September, which helped us enormously as we worked to try to stop his execution – an effort that failed but that has galvanized the movement to abolish the death penalty. Our alliance with musicians has existed for decades. Yoko Ono promotes our actions on her website; Sting spoke out for the mothers who lost loved ones in Argentina; State Radio, a young band, was so passionate about the Troy Davis case that they wrote a song about him. Decades ago, Joan Baez took a full year off to build Amnesty's membership on the West Coast.

Our freedom to express ourselves–which musicians naturally feel in their bones—goes hand in hand with activism. Bono has said that when he first saw the show we pioneered, Secret Policeman's Ball, "It became a part of me. It sowed a seed…"

Musicians want to support Amnesty–they've been behind us almost from the start. They care about human rights, and many are involved on a very deep level.  Pete Townshend was the first rock musician we worked with—back in the 70s, and he is still with us contributing to this album. So, an album like this is about engaging with the musicians who are our supporters–those who have been with us for decades, along with new ones.  They speak out for human rights, their fans listen, and the world listens.  Again, I look to Bono. He has been speaking out about the Burmese opposition leader Aung Sung Sui Kyi for decades—a situation he learned about from his work with Amnesty. And it's not just rock musicians we work with. This year, we were so honored to have Hans Zimmer, the Oscar-winning Hollywood composer, write an anthem for Amnesty's 50th anniversary. How inspiring is that!
Album Cover Image by Mick Haggerty based on an original photograph by Jerry Schatzberg courtesy of Amnesty International
This article originally appeared on the website cultureID