"Mars, Jimmy and Me" Highlights the Dangers of Pollution for Kids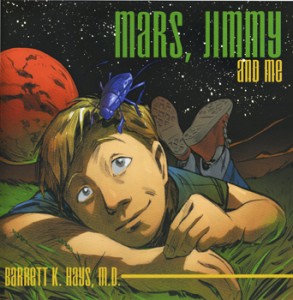 Moms Clean Air Force has been proactive in focusing on why it is essential for parents to be aware of the environmental dangers facing their children. Now they have an ally in bringing that message to the upcoming generation.
Dr. Barrett K. Hays has adopted the mission of amplifying these concerns by authoring a book prompting youngsters to contemplate our treatment of the planet, and what the ramifications will be for the future.
Mars, Jimmy, and Me, which features a dedication to the Earth on its opening page, combines humor, whimsy, and science to jumpstart an examination of pollution, economic justice, and individual responsibility.
It begins:
"The year was 2030 on Earth. Jimmy Levy and his family were going to live on the planet Mars. Earth was so crowded, that the World Government had decided to offer the people of Earth free resettlement packages to various planets. Mr. Levy had chosen Mars because of its proximity to Earth so he could bring his family back to visit. He would have much preferred the moon, but it was very expensive and exclusive. To live on the moon, you really had to have a lot of money. Mr. Levy had a good job and and his salary was enough to live comfortably on Earth or Mars, but not on the moon."
The central character is a boy named Jimmy. His daily routine includes checking the ultraviolet index before he goes outside, in order to determine if he needs to wear a protective suit. He can play only in a "covered planet zone" above the soot clouds, where solely the ultra-rich can afford to live. Here he meets a blue beetle that he will sneak onto Mars, despite strict regulations that nothing from Earth can be brought along on the journey.
The narrative follows Jimmy from his serious infringement of the rules, to the discovery that his insect friend, Clarissa, is proof that a bug-free environment has drawbacks. Clarissa comes to the rescue when a Seuss-like red goo begins to envelop Mars through a spreading "Terre Rouge Sponge" epidemic, endangering the inhabitants of the Mars colony.
I contacted Dr. Hays, a family physician for over thirty years, to get the back story on the genesis of his tale. Speaking by telephone, Hays conveyed his passion for encouraging children to "begin thinking about our ecological future." He made it clear that he was directly addressing the "dangers of pollution," and that he had written the book as a vehicle for parents to introduce environmental issues to their kids, allowing them to "start a dialogue."
Pointing out that the story was "not a doomsday scenario," Hays said, "It's about the positive future of the human race and the resiliency of humankind. We will always have problems, but we will always be able to overcome them."
When I asked Hays about the featured "red fungus," he explained that he had a life long interest in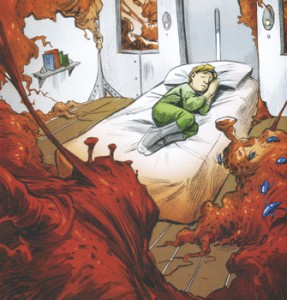 "microbes" and their evolution—thus their major role in the plot line. Referencing the parts of earth where "green plants abound" but where only the "very rich" can live, he confirmed that there was a subtext that pointed to economic disparity.
"We have real environmental issues." Hays said emphatically. "Global warming, the use of plastic, the need to talk about clean air and the connection to the rise in asthma." Based in Texas, Hayes related that 95 percent of his patients are Hispanic, and that 10 percent of those children have asthma.
With Mars, Jimmy and Me set only twenty-nine years in the future, Hays see his portrayal of an "unlivable Earth" as a call to educate those in their formative years. He emphasized the need to teach recycling, the importance of reusable sacs ("Plastic never goes away!"), protecting the rainforest, and promoting eco-tourism.
"Kids will inherit the Earth," Hays said. "This is their planet. They will have to decide what they want."
The fable of Jimmy and Clarissa is a good way to jump-start the conversation.
Illustrations courtesy of Lowell Hildebrandt
This article originally appeared on the website Moms Clean Air Force.