Lifetime Presents "FIVE"— Exploring the Impact of Breast Cancer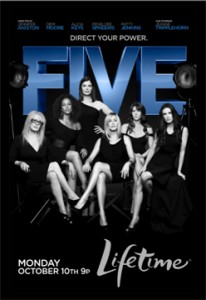 Since 1994, Lifetime Television has been a leader in promoting awareness and activism around the issue of breast cancer. Combining advocacy work with the medium of television, they have reached out to their viewership with the goal of informing and galvanizing them. On October 10, they will present the film FIVE, a set of interrelated stories anchored by one main character, "Pearl"—who is seen first as a child and then as an adult (Jeanne Tripplehorn).
The project has garnered top tier talent on both sides of the camera. Executive Producers include Jennifer Aniston, Marta Kauffman, Paula Wagner, and Kristin Hahn. Helming the director's chairs are Demi Moore, Alicia Keyes, Patty Jenkins, Penelope Spheeris—and Aniston. Participating actors cover the generational continuum, from Bob Newhart portraying a doctor, to Rosario Dawson as an independent career woman.  Patricia Clarkson, well known in the indie film sphere, brings edginess to her character "Mia," in a tale that combines caustic humor with hope and redemption.
Woven into the scripts are facts including "one in eight women will be diagnosed with breast cancer," references to the BRCA gene, dialogue on the trajectory from diagnosis to mastectomy and reconstruction, and the too often ignored detail that men also get breast cancer (one in 1,000).
The narrative begins in 1969, as a family gathers around a television to watch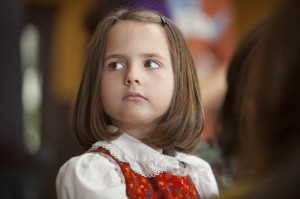 Apollo 11 land the first man on the moon. Young Pearl is aware that her mother is sick, but she is left in the dark about the extent of the illness. Although 1969 was also the year of Woodstock and growing domestic unrest, Pearl's family dynamics reflect a sensibility and a rigid framework that seems more in keeping with 1960. The inadequate way that her mother's imminent death is handled will push Pearl to find answers and empowerment through a career as an oncologist. Later, when she receives her own diagnosis of breast cancer, Pearl will be in the role of the parent. Deciding how to inform her daughter, she agonizes over how to create an experience for her child—the same age as she was—that will stand in sharp contrast to the trauma that so deeply impacted her. In the process, Pearl gains insight into her father's struggle and his inability to provide the parenting she so desperately needed.
The five stories encompass concerns that reflect the multitude of challenges facing a patient who has received a breast cancer diagnosis. Addressed are the topics of asking for help, interacting with caregivers, reframing life attitudes, family relationships, challenges based on age demographics, and cultural messages about women's bodies.
In the segment titled "Cheyanne," a dancer in her twenties must confront how her self-identity and career, which have been enmeshed with her breasts as physical attributes, will be impacted by an acute prognosis. The camera does not shy away from showing a visual of her upper torso, post-mastectomy. Rather, it uses the imagery to illustrate the evolution of her intensely sexual relationship with her husband as it morphs from lust and passion to tenderness, appreciation, and a different form of love.
I spoke with Executive Producer Hahn by telephone, to get a deeper understanding of the impetus behind the project. She related that Susan G. Komen for the Cure had approached her with the "seeds of an idea," which she saw as a challenge "to push the envelope to create something that felt fresh—combining humor and irreverence with drama." The producing team got the "best five writers" to brainstorm on potential stories, with each person contributing a script. According to Hahn, it was important that each segment work "both individually and as part of a whole." It was at this point that Lifetime came on board.
Hahn said, "I hope the film will truly inspire dialogue." She related an experience about an e-mail she had received from a woman who had attended a preview screening. It said, "I'm Stage 4. After seeing this film, I had my first real conversation."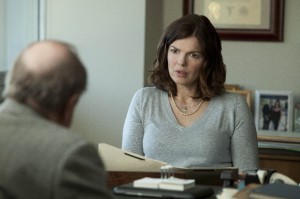 Getting through the "fear of asking questions, stimulating research dollars, and bringing the issues to light," were core objectives enumerated by Hahn. "We all know someone who has been impacted," she said. "It's more than an epidemic."
In a graphic featuring data culled from the American Cancer Society and the National Cancer Institute, stats show that there are 2.5 million breast cancer survivors in the United States. The median age at diagnosis for breast cancer is 61. The median age at death for breast cancer is 68. In 2011, 39,520 women and 450 men are expected to die from the disease.
To capitalize on the momentum of the movie, Lifetime has partnered with top cancer organizations to form the FIVE Coalition (Dr. Susan Love Research Foundation, LIVESTRONG, the National Breast Cancer Coalition, the Noreen Fraser Foundation, the Prevent Cancer Foundation, Stand up to Cancer, and Susan G. Komen for the Cure). The network is donating airtime to Public Service Announcements, and has provided a discussion guide written by Hahn. Action links have been set up at mylifetime.com/stopbreastcancer. Currently, Lifetime is spearheading an initiative to ensure that health insurance companies give their approval to making a 48-hour hospital stay after a mastectomy the "standard of care." Previously, Lifetime was able to mobilize 26 million signatures in support of The Breast Cancer Protection Act.
In our conversation, Hahn reiterated the theme of the astronauts as a metaphor for the miracle and wonder of science. She reflected, "If we can land a man on the moon, we can cure breast cancer."
All photos courtesy of Lifetime Television
This article originally appeared on the women's health site Empowher.