Glenn Beck and Danny Danon: An Unholy Alliance?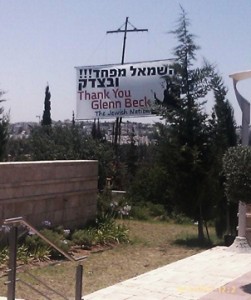 On July 5, I was more than a bit surprised to receive an e-mail from a public relations company with the subject line "RE: Danny Danon to Host Glenn Beck in the Israeli Parliament on July 11."  It began, "Hi Marcia, Hope all is well."   The friendly tone continued, "If you need any additional information, please feel free to e-mail or call anytime."  I wrote back, "Thanks for the info.  Just wondering…Why would Danon be hosting a demagogue like Glenn Beck in the Israeli Parliament?"  She responded, "Please see the statement from Danon below.  Please remember not to quote me or the public relations company regarding this statement."  What followed said, "Glenn Beck is a powerful advocate for Israel with a very large and influential audience, and we are proud to have the opportunity to host him in the Knesset Immigration Committee in July."  This was followed up with an offer to coordinate a call with the Senior Advisor to Danon.
I was nonplussed that Glenn Beck was being solicited to appear in front of a Knesset committee.  Aside from what I consider to be Beck's outlandish television persona and skewed politics, I didn't get why an Israeli representative would be reaching out to a talking head. Beck's attacks on George Soros, the progressive Jewish financier who survived Nazi-held Hungary, had prompted four hundred rabbis to publish a letter in the Wall Street Journal demanding that Fox News sanction Beck for "repeated use of Nazi and Holocaust imagery," and defamation of Soros.  On deadline for other stories, I decided to ignore it as another example of Beck's showmanship.
Two days later, I got a second e-mail—an "FYI…" This time, it was accompanied by a new press release, with an invitation to speak directly with Beck or Danon.  The new pitch explained that "Beck, a strong supporter of Israel," would be advising the Knesset Immigration, Absorption and Diaspora Affairs Committee" on ways to partner with friends of Israel in the United States to defend the country's right to exist."  Following were biographical blurbs.  Beck was described as "one of America's leading radio and television personalities," and attributed his "quick wit, candid openness and engaging personality" to the numbers behind the "highest rated radio program in the United States."  Danon's resume established his current role as the Deputy Speaker of the Israeli Knesset, his Chairmanship of the World Likud Organization, and the committees he oversees.  It related bills that he has introduced and stated that he was a "proponent for the continuation of building throughout Jerusalem," mentioning that he had participated in laying a cornerstone of a new Jewish neighborhood in East Jerusalem.
An examination of Danon via his website gave an overview of his political platform, which includes the points that Israel should annex a designated part of "Judea and Samaria," and his suggestion to send African migrants to Australia.  Also prominently displayed is a video of Danon being interviewed by Beck on Fox News.  Danon turned up at the Faith and Freedom Coalition in Washington, D.C., where according to The Washington Times, Israel was a hot topic.  He also wrote an op-ed for the New York Times, published on May 18, entitled "Making the Land of Israel Whole." In it, he advocated annexing "the Jewish communities of the West Bank, or as Israelis prefer to refer to our historic heartland, Judea and Samaria."
Meanwhile, Beck is planning an August 24 rally in Israel with the tagline of "Restoring Courage."  The video (2:00) featured on his Israel page calls for uniting behind "a holy nation under siege"— intoning that it will be "a global event like none other in history."  In addition to tuning in to this event via Glenn Beck television, Beck has partnered with two tour providers, the only ones "who are offering travel packages that include tickets" to the event.
Congresswoman Nita Lowey (D-NY), chairwoman of the House Appropriations State and Foreign Operations subcommittee, in a June interview with The Jerusalem Post said, "Glenn Beck is on the fringe.  He doesn't represent the Democrats' or the Republicans' views. It's unfortunate that he's getting this publicity."
While other nations witness how divisive American politics currently is—with Beck having been at the forefront of much of the over-the-top rhetoric—it remains to be seen why Israel would allow itself to be a staging ground for his extreme brand of political theater.
If it is because his thinking is a perfect fit for those on the far right of the Israeli ideological spectrum, we can all prepare ourselves for even greater struggles around philosophy and values.