Jewish Music: Two Artists, Two Visions Part 1 – Debbie Friedman
When my father reached the age of 91, he decided to change temples.  He wanted something smaller than the synagogue that we had been attending for close to twenty-five years.  I was charged with finding a new congregation.  The parameters were simple.  The location had to be on the east side of Manhattan and it had to be Reform.  I did the requisite Google search, and found a shul with the description, "Freedom, Tradition, Diversity."  It felt right.
I attended a service on my own.  The Rabbi led the congregation while playing a guitar.  The tunes sounded like a cross between Ricky Nelson and James Taylor.  It seemed unfamiliar and unusual at first. Yet it was through the accessibility of the music that I reconnected with going to Temple, in a way I hadn't expected.
Although my father had left behind his Orthodox roots long ago, I worried constantly about how he would respond to the service. The true test would be the first High Holy Days.
He loved it all.  He talked about the melodies and how the intimacy reminded him of the Baltimore settings of his youth.  When he died, my new Rabbi and friends from the Temple were at his funeral.  The music and prayers I had been introduced to helped me to hold onto my history of sharing services with my father.
During my father's illness, when the "Mi Shebeirach" was sung, I would mention his name.  Little did I know that a year later I would have the opportunity to interview the woman who had written the music, and learn how she had changed the world of Jewish worship.  Her name is Debbie Friedman.
*                         *                         *                         *                        *                         *
In an effort to expand the boundaries of Jewish life and culture, Congregation Da'at Elohim has made music an integral part of its mission.  On May 2nd, Debbie Friedman will be appearing at their 85th Street location for a concert engagement.  Rabbi Gary Bretton-Granatoor told me, "The Temple's vision is to use all available types of music to reach the community and extend our message."  Reflecting on Friedman's contributions he explained, "What she did was to take folk traditions, the Beatles, the voice of Dylan's protest, and make them Jewish."  Bretton-Granatoor pointed to the fact that Jewish music has always reflected the Diaspora's history, and the interactions with  different cultures  Jews have lived among.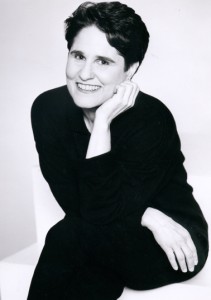 When I spoke to Friedman by telephone, our conversation enabled me to understand my reaction to the music of the services on a visceral level. "Music has its own life," Friedman told me.  "It comes through us.  Each of us is given a gift."  For Friedman, the journey began when she was sitting on a bus and a "tune came to her."
Grounded in a Jewish background while growing up in St. Paul, Minnesota, Friedman was involved in the youth group movement. Their activities were heavily skewed to a social action agenda. She envisioned her music as a vehicle for "translating the text" and setting it to music.  She began traveling with her guitar and sharing her music.  Friedman stressed the importance of "standing together as a community," as it is through this group activity that people use the liturgy to explore themselves.  "Communal worship takes on a different dimension," she emphasized.  "It's a tool to survive in a world that challenges our values.  It gives us grounding."
Lesley Karsten-DiNicola, cantorial soloist at Da'at Elohim, indicated, "Debbie Friedman is a revolutionary figure in the Jewish music world.  She changed it.  She opened the door for women.  She brought the worship to the people and made it accessible."  As Bretton-Granatoor described,  "The cantorial tradition was  "frontal, with the cantor interpreting the text."
Friedman created a balance by allowing the congregation to be an integral part of the process.  This is the core of her philosophy.  "When you contribute," she conveyed, "what you say really matters.  Everything goes up and out."  She sees the experience as potentially transformative.  "Many Jews are unaffiliated with Temples," Friedman stated.  "We need to be more warm and embracing.  We're embarrassed to talk about God.  Yet within our tradition we are told to question, 'Why? Why? Why?'  People who are in a space together can create an energy together – and a holy space."
The accomplishments of Friedman's compositions are undeniable.  She started with a core ideology of creating "joy and heartfelt caring." The work, which is gender-neutral, has had tremendous outreach. As she defined it, "It belongs to everybody."
Listening to her recordings, it's easy to see why she has sold over a half-million records.  Her voice is pure and mellifluous, with the clarity of a bell.  The sound can be joyous and upbeat, plaintive, or Judy Collinsesque – as when the listener is enfolded into the melody while invited to ponder the words.  Friedman has toured extensively, with stops including Israel, Sweden, London, Berlin, and Vienna, and Carnegie Hall.  Expressing herself with a spiritual voice that focuses on healing, Friedman insisted, "It's imperative that we celebrate what humanity shares in common, not its differences."  She mentioned that both the Talmud and the Koran embody the philosophy, "Save a life and you will save the world."
Not content to rest on her laurels and the acclaim recognizing her as an icon of Jewish music, Friedman currently teaches at the Hebrew Union College – Jewish Institute of Religion.  "It's how I would want to contribute to Jewish life today," she told me.  She works with students to help them gain an understanding of how to create a service, what music to use, and most importantly "what is the meaning of these prayers for individuals and congregations."
As the first woman to have her songs performed in services, it's interesting to note that her version of Mi Shebeirach, the prayer for healing, is heard in Orthodox, Conservative, Reform, and Reconstructionist temples.  That element of commonality, between the different branches of Judaism, is in itself a testimony to the universality of her music.
Mi Shebeirach – © Deborah Lynn Friedman