Tracey Ullman Examines the "State of the Union"
Back for a second season on Showtime's Sunday lineup, in seven half-hour episodes that began airing this month, Tracey Ullman mixes over-the-top comedic entertainment with astute observation. As each segment opens to the strains of Dvorak's New World Symphony, the viewer gets a bird's eye look at the topography of the United States that feeds into a visual riff on American culture. A solemn voice over states, "Land of the free and home of the brave. Let's visit its people for a day."
Through her panoply of characters – some of them celebrity impersonations – Ullman tackles health care, the media, ageism, celebrity adoption, the financial crisis, gay marriage, and the demise of the honeybees among other topics. The accessible humor does nothing to hide her acerbic subtext in themes that recur throughout the series.
One of her vehicles, morning anchor "Linda Alvarez," asks her staff about an upcoming story. "She hanged herself in rehab with the strap of her Marc Jacobs bag. Is that entertainment or obituary…or both?" To comment on members of the Supreme Court, Ullman disappears into the persona of fashion designer Donna Karan, who is on a mission to redesign the judicial robes. ("The robes haven't been updated since the Taft administration.")
Taking on groupthink and cults, Ullman interweaves praying nun "Mother Superior Rose Panatella" with featured characters from a fundamentalist Mormon (FLDS) compound in Texas. As Panatella quizzically contemplates why women would want to live in a polygamous situation where they "all dress and look the same," she begins to grasp some uncomfortable parallels.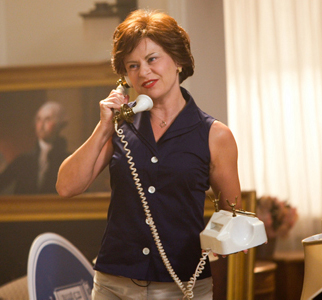 Among her uncanny imitations, the Laura Bush portrayal stands out. The former First Lady asks her sleeping husband, "Do you ever wonder if you could have done things differently?"
Ullman uses "Lisa Penning," soldier and mother, to examine the stresses facing those serving long tours of duty. (Her husband is also deployed.) While home on an abbreviated leave, Penning is faced with foreclosure. Her response to the bank's offer of $2,000 for a house valued at $200,000 is totally logical in an Ullmanian universe.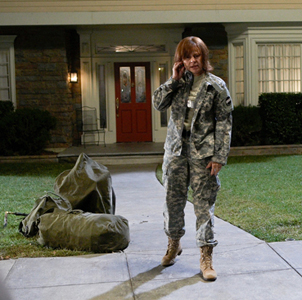 Wearing multiple hats of executive producer and writer as well as performer, Ullman had plenty of insights to share. A multiple Emmy recipient, who first impressed the critics in 1981 for her work at Britain's Royal Court Theatre, Ullman has thoroughly traversed the show biz system. She made it clear at the start of her sketch comedy career that she would not play the "busty bar maid" (adding she was not the Benny Hill type anyway), looking to English character actresses Joan Plowright and Maggie Smith as role models. But it was American stars such as Lucille Ball, Carol Burnett, Lily Tomlin, and Gilda Radner who were her trailblazers. Radner was a particular inspiration because "she was as funny as the guys … and she wrote her own stuff."
Regarding women in the field today, Ullman spoke of Amy Poehler and Tina Fey. "Tina Fey's been a wonderful breakthrough for us," she said, adding that television is a much more welcoming medium, particularly as "film is just terrifying for women right now. There's nothing if you're over thirty-five–unless you're Meryl Streep." Ullman prefers cable for its artistic latitude. Yet television has its limits. She noted that in network "women get daytime," quipping, "We can elect a black man, but we can't get a woman in night time television!" Ullman acknowledged that Chelsea Handler had started to make a dent with her format on cable's E! Networks.
While "interpreting America" in her series, Ullman zones in on one of her top concerns. "I care about women aging with dignity," she said. So slipping in "under the guise of humor" are the travails of older flight attendant "Dee McNally," who started her career at the time of "Fly Me" glamour. Ullman scrutinized how stewardesses from the Middle East and Singapore still have the "I Dream of Jeanie" outfits, reflecting the male corporate ideal. Ullman morphed into an American aviation executive when she exclaimed, "Goddamn it! We lost control of how we make the girls look."
Work has already started on the third season. Ullman gathers her news and information from a range of sources that include both old and new media. Some of her previous incarnations will be back while new ones enter the pantheon. Plenty of material remains to be mined on her favorite targets–reality shows, the unaffordable cost of healthcare, teenage pregnancy. "You have to question your own beliefs," Ullman tells me.
It is a sure thing that Ullman will continue pushing the envelope on the audience's core value system, as well as her own.
The article originally appeared at The Women's Media Center website
Photos credits: Cliff Lipson/Showtime