Changing the Landscape for Women
With the election of Barack Obama, women voters who put him in the Oval Office will be waiting to see if gender issues are a priority. One leader in women's advocacy who will be watching is Faye Wattleton, President and co-founder of the Center for the Advancement of Women.
In late October, Wattleton's organization held its fifth annual benefit, "Changing the Landscape for Women." It paid tribute to Abigail E. Disney, Pat Mitchell, and Dr. Nancy Snyderman – three shape shifters in their respective fields.
Wattleton, who headed Planned Parenthood Federation of America from 1978 – 1992, has been a steadfast guardian of women's health issues and reproductive rights. Since the Center's inception in 1995, Wattleton has charted a course that puts research in a front and center position. Tapping into what women are thinking, feeling, and doing – the data is translated into information geared to instruct, inform, and mobilize support for women's social and economic concerns.
CFAW has released original findings about women in science, technology, and engineering, conducted the first post 9/11 survey probing the impact of terrorist attacks on women's lives, and explored the effects of domestic violence. In the latter, teenagers in focus groups revealed that they felt "locked into the stereotypes of 'bitches and hos' promoted by popular culture – and by the pressure to conform." One of the Center's grassroots communication actions was entitled Ann Coulter Does Not Speak for Me.
A wide range of supporters was in attendance. Before the luncheon, I was able to speak with Dr. Jennifer H. Mieres, Director of Nuclear Cardiology at NYU Medical Center. She familiarized me with the national study on women and heart disease she was spearheading, explaining how previous findings have merely been "extrapolated from men's studies."
Beyond receiving their awards, the honorees engaged in a panel discussion addressing a range of subjects. Abbey Disney, filmmaker, activist, and philanthropist, spoke about her documentary Pray the Devil Back to Hell. "Women will organize, step up, and do extraordinary things," Disney stated. The film portrays the perseverance of Liberian women in bringing peace to a nation racked by decades of civil war.
Pat Mitchell, President and CEO of the Paley Center for Media, characterized her strong belief in media communication as a "force for social change." The winner of five Peabodys and over forty Emmys, she was the first woman to become President and CEO of PBS in 2000.
Dr. Nancy Snyderman, Chief Medical Editor at NBC news and the author of four books, was emphatic about the need for more female role models in the fields of science and medicine. She expressed a fervent concern about a majority of girls in the 8 – 10 age group who when asked, "What do you want to be?" replied, "Famous." "That," Snyderman told the crowd, "is an issue."
The conversation encompassed what Mitchell qualified as "an enduring lesson." She said, "In the 1970's, women were recruited to change the landscape, but they [the media companies] didn't want real change. And I said, 'Wait a minute. We were brought in here to change things and we're not speaking up.'" Her conclusion: "If you are not speaking in your own voice, you're not changing anything."
This precipitated a series of personal remarks. Disney offered, "I reinvent myself each morning when I get out of bed. What's scaring you – go towards it." Snyderman said, "I don't think any woman realizes she's strong until she comes out of a dark period and realizes she's survived it." Mitchell agreed, "The biggest accomplishments came from the deepest, darkest failures." Then on a lighter note she invoked her Grandmother who advised, "Falling on your face is at least a forward motion."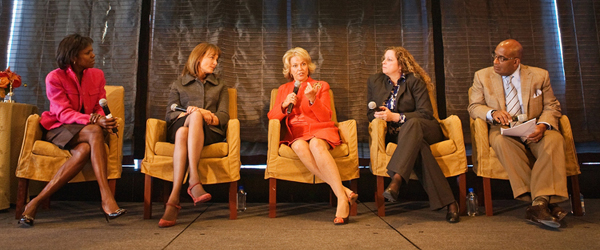 With questions from moderators Deborah Roberts and Al Roker, the topic of women and power was engaged; both relating it to the male version and qualifying that power could be used for positive purposes. The concept of integrating strength and authority with responsibility was put forth by Mitchell.
I checked in with Wattleton, post-election, to see how she felt the Obama victory would affect the Center's agenda. She made it clear that their mission and long time emphasis on research were not tied to political events. However, noting that the Republican Party had worked to "roll back abortion rights" and had fought the Lily Ledbetter Act, she suggested that Obama's upcoming administration "offered the promise of sensitivity to women's issues." Stating that women are "disenfranchised from health care" and their "reproductive health is considered discretionary," she pointed out why those issues not only needed to be debated, but were also of top priority.
Despite the anticipation of an Obama presidency, Wattleton was categorical when she said, "We need to hold his feet to the fire." Not surprising coming from the woman who has promoted "understanding the uniqueness of women." Wattleton ended her benefit with the rejoinder, "We must make sure we raise our voices."