Personal Democracy Forum 2011 — Agents of Change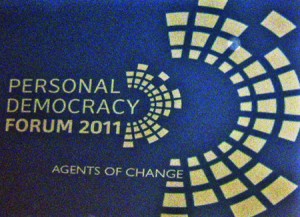 This was the eighth year that the Personal Democracy Forum convened, and my fourth year in attendance.  The stated PdF mission is to examine how technology impacts politics, government, and civil life. The program is always topical; the 2011 agenda was curated to reflect the events in the Middle East and North Africa.  It also featured the ongoing discussion about the impact of the usual suspects on our lives — Facebook, Google, and Twitter.
Danah Boyd was back, to reflect on "Networked Privacy."  Member of the European Parliament, Marietje Schaake, weighed in with the suggestion that the United States couldn't really address Internet freedom in other parts of the world — if they didn't have their own house in order.  The "globally connected environment" got plenty of play, as did the acknowledgment that when dictators understand the power of social and mobile — they move toward controlling it down or shutting it down.  There was hearty agreement that access to the Internet should be an "international right."  Emily Parker indicated that "the mere existence of vibrant networks will not change countries overnight.  Something else must shift."
The need for transparency was repeatedly invoked.  Sen. Kirsten Gillibrand (D-NY), expressed concern that people were losing faith in government.  She is putting all her earmarks online and working on the Public Online Information Act.  She also remarked that in many rural localities around the country there is no Internet access — a cause she is working to fund.
The roster of speakers talking about the role of technology in Nigeria, Tunisia, and Egypt had charisma and energy.  Alaa Abd El Fattah, known in the west as a top Egyptian blogger and activist, drilled down on "hyper-local networks" and how "tech has normalized the dialogue of politics."  Rasha Abdulla conversed about social media as a "democratizing agent, which helped to facilitate the flourishing of opinions while simultaneously becoming a "primary tool for political activism."  Abdulla called for making it "criminal to block the Internet and mobile communications."  Mona Eltahawy, who has been challenging the stereotypes of Muslim women, related how on May 25th, women activists and reporters in Egypt were physically attacked and had their clothes and headscarves ripped off — in order to "shame them."  She also referred to "virginity tests" that were being perpetrated upon young women activists.  All three presenters moved into an afternoon breakout panel entitled "The Revolution in Egypt," with Nancy Scola moderating.   It was identified that pre-revolution, comments on blogs numbered in the hundreds.  Moving into the post-revolution time frame, comments had risen to the thousands.  Audience questions ranged from, "What's next?" and "What can we do to support you?" to "Why are you here?"
The men behind the Personal Democracy Forum, Andre Rasiej and Micah L. Sifry, informed the crowd that they had reached 50-50 gender parity, as well as bi-partisan representation.  Rep. Jason Chaffetz (R-Utah), who characterized himself as "a fiscal conservative," discussed technology making government better for the people."  While he called for providing data on how billions are being spent, a tweet with the PdF11 hashtag informed folks that he supported making abortion illegal.  However, party lines were put on the back burner when Anthea Watson and Mindy Finn explained "The Power of Open Voting Data."
Without doubt, "The Internet is My Religion," a riveting talk delivered by Jim Gilliam, had a major narrative impact.  Gilliam spoke about his background — which included being "born again," home schooling, and church attendance three times a week.  He revealed the story of an awakening of a different sort — "getting on line."  Then, both he and his mother got cancer.  She died, and he lost faith in God.  When Gilliam's cancer came back, infecting his blood, he needed a donor to survive.  He made a connection and was "replenished" by "the blood of a stranger."  After 9/11, he started working with Robert Greenwald on his Iraq film, and together they founded Brave New Films.  Gilliam then discovered that he needed a lung transplant. He started blogging about his quest to find an organ.  Although the insurance company gave him a hard time, he persevered and got on the list.  Eventually, he was the recipient of a lung from a 22-year-old who had died.  Gilliam recounted how he thought about all the people who had helped him, and how he had rediscovered God in the actions of people who were working together on his behalf.  He concluded, "We are all connected.  We serve God best when we do what we do best.  Each one of us is a creator."  He received a standing ovation.  Sifry thanked him for his insights with the simple acknowledgment, "What a gift."
Picking up on the theme of individuals making a difference, Ben Rattray from Change.org spoke about dealing with issues "on a granular level."  His concept is to build from the ground up, focusing on the impact a personal story can have over a large-scale approach. He coined it as "the value of small."
Jeremy Heimans, co-founder of Avaaz.org, pointed out in "The Untapped Power of Consumer Campaigns" how collective power has other options beyond government.  He underscored that corporations were "porous targets," worried about their brands.  In response to pressure, he put forth that they would actually change their "supply chain."
The matter of Net Neutrality was mentioned several times, and when speaking about the "new ecosystem of journalism," Dan Gillmor specifically urged the audience to stand up for the principle.  Jay Rosen, a PdF regular, had several pithy pronouncements, including "Professional journalism has been optimized for low participation," and "The story isn't hidden, it's uncollected."
Marko Rakar, who delivered "The Power of Transparency, Croatia-Style," and was a presenter at PdF Europe, was one of my favorites.  With shades of The Daily Show humor, he explained how in his country, there are more voters than people.  Despite having been arrested, Rakar continues to reside in Croatia, working to make it "a better place to live."  He left the audience with the line, "May the bridges I burn l light the way."  Before bringing on the next speaker, Sifry opined, "Our government has to stand for freedom of speech online."
As a Firefox user, it was engaging to hear from Mitchell Baker of Mozilla. She reflected on the need for more innovation, suggesting that "not every venture is about capital."  Mozilla is a hybrid organization that thinks about the "individual first," she said.  During her talk she pointed out that, "The government we get when we do nothing is not the government we want."
The late afternoon round of talks fell under the umbrella of People and States in a Hype-Connected World.  Anne-Marie Slaughter indicated the way men have driven traditional foreign policy with the straightforward description, "Opaque, separate, no connection."  She proposed that the viewpoint of gender and generation accounted for a different way of looking at connection than the "old model."
Her final words of "Build local, go global, change the world," resonated as a fitting take away from a jam-packed two days.