"Bhutto" – A Woman and Her Country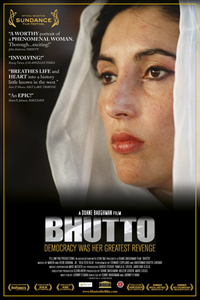 With the assassination of Salman Taseer, the Governor of Punjab Province in Pakistan and an outspoken opponent of religious extremism, the divisions within Pakistani society are once again in the news.  Perhaps there is no better time to see the documentary Bhutto, which not only tells the story of Pakistan's first women Prime Minister, but also gives extensive background on this country's history.
Out of an 111 minute running time, the first half-hour is devoted to the account of a nation that was birthed in bloodshed.  There is a full primer on Benazir Bhutto's father, Zulfikar Ali Bhutto and the Pakistan People's Party, which he founded on the platform of  "food, clothing, shelter."  For Americans, who can be woefully ignorant of other nation's narratives (even those we are seeking to engage in cooperation around the Afghanistan war), the lesson is welcome.
Pakistan, the sixth largest country in the world, has a population of 180 million people and is 97 percent Muslim. Approximately 60 percent of the citizens subsist on under $2 per day. There are 1,000 honor killings per year.  Since the death of Benazir Bhutto in 2007, there has been an average of three terrorist attacks each week.  The country has survived four military coups, and is in possession of 90 nuclear warheads.  After the 9/11 attacks, during the Bush administration, the United States funneled $15 billion in unchecked defense funds to Pakistan.  President Obama has since signed the Kerry-Lugar Bill, which provides $7.5 billion in civilian "non-military" aid to the people of Pakistan for health care, education, electricity, and infrastructure renewal.
Making an observation on the Bhutto family, which has frequently been referenced as the "Kennedys of Pakistan," one of the film's talking heads aptly states, "The whole story of the Bhuttos has the elements of a Greek tragedy."  It is the interweaving of their personal history with that of Pakistan's that creates the framework for the movie.
Bhutto was born in 1953.  Nobody came to visit her mother for three days; they were in mourning that she hadn't given birth to a son.  She was given the first name Benazir, which means one-of-a-kind. Her father believed in equal rights for women.  When his daughter first donned the traditional burqa at age 13 he informed her mother, "There's not a need for her to wear it."  He saw education as being paramount, so Bhutto attended both Harvard and Oxford.  As the first democratically elected President of his country, Ali Bhutto groomed his daughter to carry on his political legacy.  This subtext of preference added to the ongoing struggles she had with brother Murtaza Bhutto.  They held distinctly different ideological and political points of view.  Later, this discord would extend to Bhutto's husband, Asif Ali Zardari, and his role in the government.
While Bhutto was at university, she was exposed to the burgeoning women's movement.  Her roommate at Harvard (interviewed in the film) was Kathleen Kennedy.  Bhutto learned how to straddle both the worlds of tradition and liberation.  Believing that she was on "a holy mission to bring democracy to her country," she understood that in order to co-exist with the religious factions—and gain their support, she needed to abide by certain strictures of Pakistani society.  At the age of 34, she accepted an arranged marriage to Ali Zardari.  He was a Karachi businessman chosen by her mother, with no ties to the Pakistani intelligentsia. However, Bhutto said, "My mother picked him, but I fell in love with him as if I saw him across a crowded room."  Despite these concessions, she believed that she had changed how Islamic men—and Islamic society—viewed Islamic women.  She wanted to show by example that "a woman could be as good as a man."
Bhutto's world was turned upside down when her father, then serving as Prime Minister, was overthrown in a military coup by his handpicked Chief of Army Staff, Gen. Mohammed Zia ul-Haq.  He was imprisoned for two years on charges of "conspiring to murder a political opponent."  Bhutto was then 26.  It was the vigil for her father in prison that Bhutto credits as the training ground for her political career.  For two months before her father's execution, when Zia had outlawed the speaking or printing of the "Bhutto" name, she and her mother were under house arrest.
Beginning in 1981, the next two decades included extreme highs and lows in Bhutto's life.  After her two brothers were linked to the hijacking of a Pakistani airplane, she and her mother were included in a round up of political dissidents.  She spent months in solitary confinement before being transferred to house arrest.  She left the country in 1984.  The following year, her younger brother Shahnawaz Bhutto died in France, under mysterious circumstances. The family maintained that he had been poisoned.
In 1985, Bhutto returned to Pakistan to take up leadership of her father's political party.  Eight months later, she persevered in calling for new elections, with the agenda of "bringing change to Pakistan through non-violent means."  In December of 1988, at age 35, she was sworn into office as Prime Minister.  She took her oath using a Koran, to "debunk myths on the Jihadist views of Islam."  She said, "I have avenged my father today."
After twenty months in office, President Ghulam Ishaq Khan dismissed Bhutto's government on the grounds of alleged corruption. Bhutto blamed the military. Continued jockeying for political power resulted in the People's Pakistan Party recapturing a majority of seats in Parliament. In 1993, Bhutto regained the prime ministership. Her government was dismissed in 1996 by President Farooq Leghari, for corruption and "disregarding the constitutional limits on executive power."  She was placed under house arrest. Her husband, who had served as investment and environment minister (and was derogatorily referred to by opponents as, "Mr. 10%"), was taken to prison. He was incarcerated for eleven years and released in 2004—without having been convicted of a crime.  Of that period she reflected, "We were in office, not in power."
In 1996, Murtaza Bhutto was shot and killed in a gun battle with Karachi police. Her niece, Fatima Bhutto, is a vocal on-screen critic.  She explicitly states that her aunt "bears a moral responsibility" for her father's murder.  Her unequivocal cynicism about Bhutto's goals and actions were made clear in a Los Angeles Times article on November 14th, 2007, concurrent with her aunt's return to Pakistan.
In exile and living in London, in 1999 Bhutto was sentenced to five years in prison on charges of corruption and barred from holding political office.  She denied the accusations.  Her children, speaking wistfully, said that while they lived in exile they spent more time with their mother than when she was in office.
An American-brokered deal with Gen. Perev Musharraf granted amnesty for Bhutto in October 2007.  All corruption charges were withdrawn.  Musharraf ran for President and Bhutto went back to Pakistan for the parliamentary elections.  Her message was that military rule was not the solution and that "she and democracy were a better choice."  Knowing of the impending danger that faced her when she returned to Pakistan, Bhutto sent an e-mail to her long-time American advisor Mark Siegel, noting that Musharraf would be to blame if any harm befell her.
While participating as the leading opposition candidate in a political rally in Rawalpindi, she was killed in a suicide bomb attack and shooting.  In 2008, Musharraf resigned to avoid impeachment.  Bhutto's husband was elected President of Pakistan the same year.  In 2009, he asked the United Nations to conduct an independent inquiry into his wife's death.  On April 10, 2010, the results concluded that Musharraf's government bore responsibility for her murder by "repeatedly rejecting basic security measures and intentionally destroying critical evidence."
Interested in getting back-story on the film, I contacted Duane Baughman, the Producer/Director.   Speaking the day after the San Francisco premiere of Bhutto, he discussed the genesis of his film that had taken three years and $3 million of his own money to bring to fruition.
Baughman related his first awareness of Bhutto on the international stage in the 1980s, when he was immersed in political science. He said, "I was riveted by this woman who appeared to be straight out of Central Casting."  Twenty-two years later, he found his work in the political sphere bringing him into impending contact with Bhutto, when Mark Siegel included him in a group of potential consultants for Bhutto to meet.  The introduction never took place.  After the assassination, Baughman felt strongly that Bhutto's story needed to be told—particularly by a person who had a pronounced political understanding and could handle the overview of "an extremely complicated story."  Siegel became the facilitator and conduit to the Bhutto family, as well as the producer on the movie.
Part of Baughman's vision for the documentary was his commitment to shed light on Pakistan—a country that he sees "intrinsically intertwined" with America's future.  He said emphatically, "If Pakistan succeeds, the United States succeeds."
Commenting on the relationship between father and daughter, Baughman spoke about how in Ali Bhutto's last year, Benazir Bhutto was his lifeline.  In turn, he was her "professor and tutor."  Baughman quoted from Ali Bhutto's A Letter from the Death Cell where he wrote of his daughter's evolution: "She has the blood of warriors running in her veins."
I asked Baughman what his take-away on Benazir Bhutto was.  He responded by e-mail, "She was the first woman in the world to rise up and lead a Muslim nation, and she gave her life for her country. The level of admiration and curiosity I have for her is wrapped up in this film. Like her or hate her, admire her or abhor her, she was a barrier breaker whose personal and family legacy is forever linked with Pakistan— and Pakistan is linked with America and the West. That makes her story one we should all be more aware of."