"Every Mother Counts" – Fighting Maternal Mortality
My mother used to joke that giving birth to me put her into shock. I never got many details.  Just that she had lost a lot of blood and they had to call in a second doctor to stabilize the situation.  She strongly disliked the obstetrician who panicked while delivering me, characterizing him as cavalier and condescending.  After viewing the new documentary, No Woman, No Cry, I realized that my mother had survived an "obstetric hemorrhage."
The director of No Woman, No Cry, Christy Turlington Burns, experienced a similar situation as my mother.  It pushed her to take a look at why 1,000 women around the globe die daily due to complications from pregnancy or childbirth, particularly as 90 percent of those deaths are preventable.
Most immediately recognizable as a top fashion model, Turlington Burns took on the mantle of activist back in the early 1990s with her efforts toward rebuilding war torn El Salvador, the homeland of her mother. She worked on the ground with the Salvadoran American Humanitarian Foundation.  In 1997, when her father died of lung cancer, she became pro-active in smoking prevention.  She connected with CARE, as their Advocate for Maternal Health. This experience motivated her to embark on getting a Masters in Public Health at Columbia University.
Turlington Burns was involved in the film's production for two years.  She observed four different women and their pregnancies in Tanzania, Bangladesh, Guatemala, and the United States.  The anecdotal threads are anchored by her gentle voice over.  She begins the story with home footage of her pregnancy.  Through the choice of her narratives, Turlington Burns lays out her points while exploring basic facts about maternal mortality.
Reproductive health problems are the top cause of death for women ages 15-19 in the developing world, with approximately 70,000 young women dying because their bodies are not yet ready for childbearing.  Over 200 million women who want to plan their families don't have access to modern birth control.  This option would reduce the amount of maternal deaths due to unsafe abortion by 82 percent.
At the Paley Center in New York City, I attended a screening of the documentary, followed by a panel discussion with Turlington Burns and experts Dr. Suellen Miller and Ann M. Starrs. Turlington Burns explained, "It's a global tragedy, and I wanted to show that."  She continued, "I constantly marvel at the power and strength of women."
Maternal health is considered a benchmark of how a country's health care measures up.  Turlington Burns cannily juxtaposes an American segment, to echo the issues that are at the root of problems in developing countries.  For those previously unaware of the American stats, they may be shocked to learn that the United States comes in 50th on the scale of how well a country provides its citizens with maternal health care.  It has dropped from a previous ranking of 41st, trailing Canada and a host of European countries. Race and economics are a primary factor:
African-American women are three to four times as likely to die from pregnancy related causes as white women.
The maternal mortality ratio for Native American and Native Alaskan women is four times higher than the 2010 national goal set by the government.
Women living in low-income areas across the country are twice as likely to suffer a maternal death as women in affluent areas.
Superficially, it's easy to believe that the obstacles facing women in other nations are dramatically different than those in America.  Yes, a van ride to a hospital in Tanzania costs $30, more than a family's monthly wages.  However, Jennie Joseph, LM, CPM, Midwife and Executive Director of The Birth Place, which operates in Florida near Orlando, points out in her onscreen interview, "There's no real access for disenfranchised women."  On the expenditures needed for pre-natal care she says, "This is an upside down system.  Health care is anything but free."
Many economically disadvantaged American women are getting their care through hospital emergency rooms.  There, they are often victims of judgments emanating from a core lack of understanding about why they can't get prenatal services.  With two American women dying each day from pregnancy related problems, you have to question access and equality.  A pervasive tone of condescension from some of the doctors permeates all four stories.  It may be culture specific, but it's there.
The mother-to-be in Tanzania, who consistently invokes the "will of Allah" as an explanation for events, replies with resignation to the question posed to her about how she is faring. "It's okay.  I haven't died, so I'm alive," she says wearily.  While learning about the woman in Bangladesh who has finally conceived her second child, and is relieved that her husband won't leave her for a more fertile mate, we find out that there are fourteen local words for a woman who can't bear children.
In Guatemala, a woman suffering from the aftermath of a failed abortion refuses to admit it — because the stigma is so great. Abortion is illegal in Guatemala, except to save a woman's life. Procedures under unhygienic conditions lead to 65,000 unsafe abortions performed each year.  These factors are contextualized in the film by Dr. Linda Valencia, who directs Planned Parenthood Federation of America's support for programs in Guatemala.
Since barriers in the United States — not unlike those in foreign countries, exist — Turlington Burns has created a multi-pronged approach to bring awareness to this national and global crisis.  She has founded and put into play Every Mother Counts, a platform to link a grassroots mobilizations campaign with the steps of "engagement, education, and advocacy."  Using a social media strategy to get eyeballs and action on several levels, the documentary is being rolled out on Oprah Winfrey's new network OWN on May 7th, with repeats the following day. People are being encouraged to host screening parties.  Starbucks will be selling a CD entitled "Every Mother Counts," with tracks by "mom artists" including Rosanne Cash, Ani DiFranco, Jennifer Lopez, and Toshi Reagon.  It will be available through the end of 2011.  Starbucks will donate $8.00 of the selling price to CARE, a partner with Every Mother Counts.
When I spoke to Turlington Burns at the Paley Center, she told me that she was headed down to Washington, D.C. to be a speaker at the Capitol Hill briefing on the Maternal Health Accountability Act (H.R. 894) sponsored by Rep. John Conyers (D-MI).  The goal of the bill is to help set up "maternal mortality review committees" in each state, and to help "eliminate disparities in maternal health outcomes."
Amnesty International will also be testifying. I wrote an article last year about their March 2010 report, Deadly Delivery: The Maternal Health Care Crisis in the USA. They have since released a 2011 update to their previous findings. Based on new evaluations by the Maternal Child Health Bureau, it shows that in America "low-income women face substantial barriers to obtaining medical care during pregnancy," extending beyond finances to include transportation and a lack of professionals in their area.  Asking the public to get pro-active on maternal mortality through a Mother's Day card action to legislators, Amnesty International is supplying cards free, which will then be distributed to members of Congress.
Throughout the world, maternal obligation is seen as tantamount.  In some locales, that may come at the expense of maternal death.  It is time to go beyond the lip service paid to mothers for a life-long role that is exalted, but so often poorly supported.  Turlington Burns' clear-eyed documentary is a step toward bringing recognition and tangible action to the struggles of women worldwide.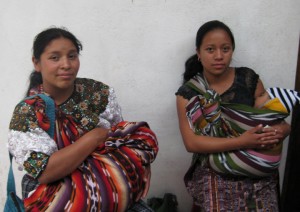 Photos courtesy of Every Mother Counts
This article originally appeared on the women's health site Empowher.