"12th & Delaware" Joins the HBO Summer Documentary Series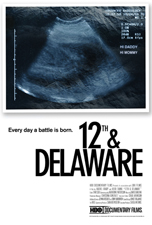 June through August, HBO has presented a line up of documentaries, which serves as an alternative to the lightweight fare prevalent during the summer months.  Out of seven films, five take on socially relevant themes including the hazards of domestic natural gas (Gasland), the story of Iranian symbol Neda Agha-Soltan (For Neda), the evolution of a United Nations human rights advocate (A Small Act), and the homeless epidemic in the United States (Homeless: The Motel Kids of Orange County).
On August 2, the 80 minute cinéma vérité production 12th & Delaware has its debut.  Directed by Heidi Ewing and Rachel Grady, the team responsible for the Academy Award nominated Jesus Camp, they once again employ a fly-on-the-wall point of view. This time they explore the white-hot struggle over abortion.
12th & Delaware utilizes a street intersection in Fort Pierce, Florida, to illustrate the deep ideological divide between two camps of thought. The metaphor emanates from the physical proximity of two facilities located across the road from each other.  One is an abortion clinic called A Woman's World.  The other is an office named the Pregnancy Care Center.  The later came into town in 1999, eight years after A Woman's World opened up.  When a chiropractor vacated the adjacent building, the pro-life organization purchased it.  Part of the current strategy of those opposed to abortion is to have offices offering undefined services to pregnant women located close to Planned Parenthood health centers and independent abortion clinics. Many women inadvertently end up at the wrong destination.
The film took two years to make.  Footage was shot the same year that Dr. George Tiller was murdered. The team contacted over 100 crisis pregnancy centers before they chose the Fort Pierce location.  A screenwriter's imagination could not have set the scene any better.
The film begins in the darkness before dawn.  At 5 a.m., a woman with a sign saying, "Thou Shalt Not Kill," has already taken up her post directly in front of A Woman's World.  She is a regular presence, with a repertoire of pleading entreaties.  One of her refrains is, "95 percent of women will tell you that they regret their abortion."  She holds up a fetal figure, part of her visual arsenal.
We meet Anne, the director of the Pregnancy Care Center, who explains her commitment to her work.  With only "herself and her two dogs to be responsible for," she is devoted to the pro-life movement.  We see her interact with a series of girls and women. The youngest is 15. The center's offer of a free ultrasound is particularly persuasive, especially for those without insurance.
The camera follows Anne during her intake consultations, and then monitors her comments to her staff. "She's abortion-minded," or "Let's look for a heartbeat to influence her decision," are favorites. In a moment of chalking up victories for her cause she exclaims, "Yes. Yes. Two in one day!"  To a 17-year-old girl who has had a prior abortion, her advice is not to tell her mother about the situation.  When she takes the girl and her boyfriend through the visuals of the ultrasound ("It shows what's happening there."), she types onto the screen, "Hi Daddy."
Anne is scathing in her attitude towards her adversaries across the way, equating the clinic to a car dealership.  However, as we watch her do a training session with future personnel, she puts forth an agenda of techniques that would put a car salesman to shame.  She tells them, "Attract the client.  Hook her right away. Engage her in conversation."  She explains, "I'm not trying to talk her out of it.  I'm trying to get her in the door.  There's no deceit in this."
Direct and intense, Anne asks an 11th grade girl, "Do you know what you really choose when you choose abortion?"  She shows her a video and informs her that as a result of the procedure, she may lose so much blood that she may die. Realizing she has overplayed her hand, she takes a step back and asks soothingly, "Want to go with the computer animated ?  There's no blood.  It's all animated."
Anne does get push back from 24-year-old Victoria, who already has two children.  Trying to convince her to keep her options open, she buys her lunch while they talk things out.  When Victoria informs Anne that her boyfriend is verbally abusive, Anne offers that, "The baby might change him."  However, Victoria stands firm insisting, "I have to do what's best for me and my kids.  I know for a fact I won't regret it.  Abortion is to terminate unwanted pregnancy."  Stepping outside to make a phone call her conversation relates, "This bitch is getting on my (expletive) nerves."  She's not gonna be there."  Resolving to get her ultrasound so she "can get out of there," Victoria says later, "Maybe because she thought she bought me McDonald's, I was gonna change my mind."
A cast of players, like a Greek chorus, supports Anne's point of view.  Father Tom Euteneur preaches in his church that abortion is a "ritualized blood sacrifice."  He tells his parishioners, "We're speaking about something deeply diabolical."  A man in shorts, with the body of a bouncer, has made it his mission to track down the identities of the attending physicians—so that he can pass the information on to those who will make the best use of it.  He states flatly, "This is life and death we're dealing with here."  He notes derisively, "Someone came up with the idea it's a woman's right."
Wandering into this tinderbox is a town resident who seems to agree in principle with the anti-abortion activists, but who strongly objects to their methodology—particularly their use of placards (picturing enlarged and dismembered fetuses) in a school zone.  "The Bible says not to judge," she tells them.  "You keep pointing a finger.  This is not helping."  After she walks away, the reaction is, "She's an overprotective mom who doesn't want her kids seeing posters of torn apart babies."
It is forty-four minutes before the viewer meets Candace and Arnold, the wife and husband who run the abortion clinic.  The previous unrelenting rhetoric and ominous background music create a claustrophobic tension, giving an inkling of what the women seeking services are enduring.  Up until this point, our only exposure to Arnold is seeing him driving the doctor (whose identity is shielded by a white sheet over his head) to and from the clinic in his yellow Mustang.  Candace is pictured looking out from her orange-painted establishment through window blinds, monitoring the activity on the sidewalk.
The faces of the girls and women that Candace counsels are not shown.  A 46-year-old with health issues discusses her concern about being able to take care of a child at her age.  Candace asks her, "Do you have any doubts? I want to make sure this is what you need to do."   She advises another woman—who confides, "I don't have a good life" and appears beaten down by her partner's sexual demands—that she cannot have sex without using condoms or birth control pills.
The young girl—in session with Anne before realizing that she was in the wrong place—tells Candace, "They made me watch this very gruesome video."  Candace discovers that Anne has misinformed the girl about the timeline of her pregnancy. Believing that she is at seven weeks, two days, Candace gently tells her that she is actually at ten weeks.  After the girl leaves Candace says, "They lie to patients about how far along they are, because clinics go to ten to twelve weeks, and that's it."
Candace's rhetorical questions to Anne and her organization are, "Why are you messing up these girl's lives? Why are your playing around with them like that?"  As an afterthought she says dispiritedly, "I feel like crying today."
Earlier, Anne is seen at the March for Life in Washington, D.C. At this juncture she announces to her opponents, "You can not outlast us." Before the final credits roll, the audience learns that there are currently 4,000 pro-life centers in the United States, and 816 abortion clinics.
The filmmakers have offered up a valuable source of insights into the trench warfare on this topic. However, a resolution doesn't seem to be in the offing any time soon.
This article originally appeared on the website cultureID.