Pavel Vinnitsky's Vision: To Revitalize Jewish Music
Pavel Vinnitsky is a man on a mission.  His goal is to revive the Klemzer tradition, seek out composers to write original music based on Jewish themes, and combine the presentation of this music with a standard classical repertoire.  As the artistic director of the Jewish Arts Ensemble of New York, he is well on his way.
The journey began in the Ukraine, just hours from the capital of Kiev, where Vinnitsky was born and lived until he was sixteen.  Here he began his classical music training—while simultaneously being exposed to his town's Klezmer musicians.
Before the Soviet Union fell, and until the time that the sizeable Jewish community emigrated in the 1990s, Jewish culture and music were suppressed.  Klezmer was played underground and at weddings only.  Equally immersed in both the Klezmer and classical idioms, Vinnitsky felt as if he were "living two different musical lives."
When Vinnitsky's family put down roots in Israel, they moved to the north of the country near Haifa.  After serving in the Israeli Artillery Forces, Vinnitsky attended the music academy at the University of Tel Aviv, where he received a Bachelor's Degree in clarinet performance.  He was accepted into a Klezmer trio, adding the sounds of his clarinet to those of a violin and an accordion.  The group toured Europe, made recordings, and performed in festivals.  For a period of five years he was doing full time gigs, giving as many as one hundred concerts in a year.  "That," he told me, "is where I got my Klezmer training."  The trio both improvised and worked out fixed arrangements.  By 2003, Klezmer melodies were constantly reverberating in his head.  He was only doing a small number of classical recitals.
Yet when he met his future wife, Anna, a pianist who focused on scores from the late Renaissance to Chopin, he realized that he wanted to reconnect with his classical past.  Together, they formed a chamber duo and came to America. Vinnitsky attended the Yale School of Music, where he studied with David Shifrin. He moved into a full-time, freelance career as a guest performer for New York City chamber music ensembles, the American Symphony, the American Ballet Theatre Orchestra, and the Metropolitan Opera Orchestra.
The concept of the Jewish Arts Ensemble of New York evolved as an answer to Vinnitsky's search for a way to combine the two sides of his musical personality.  He began developing a musical catalogue based on Jewish thematic sounds and folklore. When he realized that there was a dearth of material, it became his passion to fill in that gap. Vinnitsky began to seek out composers.
Music composed solely by Jews is not the criterion. Rather, it is the utilization of source material and themes that have a specific harmonic language. Vinnitsky is looking to build a sound that emanates from Jewish liturgical chants and regional folk music. He explained to me, "Jews didn't have a land, so we were influenced by the neighboring people we were listening to."  Vinnitsky has the model established by the Hungarian composers Zoltán Kodály and Béla Bartók—who merged the strains of national folk melodies into their contemporary scores.
Klezmer has its roots in the songs, dances, and instrumental compositions that were played at the rituals of Eastern European Jews. "Klezmer is a valuable treasure not just to Jews, but to the whole world," Vinnitsky emphasized.  He added, "The music I'm interested in is not just Klezmer.  It can be Sephardic, cantorial music, even theatrical—like Ha-Dybbuk."  The latter has been performed in various iterations, including a 1937 Yiddish film.
As part of the "Arts at the Park" series in Manhattan, Vinnitsky's Jewish Arts Ensemble offered a program that encompassed Mozart, Rossini, and Klezmer. Featured was an original composition for the violin, cello, and piano, entitled T'filah. Composed by Peter Alexander, it was commissioned by congregation Da'at Elohim.
A brief history lesson by Vinnitsky paints a picture of 20th century St. Petersberg as a center where Jewish folkloric music was collected and documented.  It was acknowledged that the most authentic part of the Jewish musical tradition was the music of the synagogue, which dates back to the Second Temple in Jerusalem. From these two foundations, composers wanted to develop new music.  However, national politics, the rise of Communism, anti-Semitism, and later Stalinism, got in the way. As a result, the goals of the New Jewish School of music were thwarted.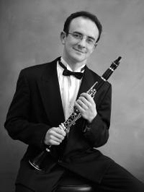 Vinnitsky is moving forward, supported by his group of instrumentalists which includes Ragga Petursdottir on violin, Junah Chung on viola, and Anna Vinnitsky on piano. His endeavor is to build on "beautiful source music" through instituting what he defined as a "living lab" for composers. He hopes to "reestablish the Jewish National Movement in music" to create a "distinct national Jewish sound."
When I saw Vinnitsky performing the Klezmer pieces, he threw his body into the music, bending at the knees and lifting up on his toes. I thought of Benny Goodman, who also actively straddled the world of popular and classical music.  In 1939, Goodman's band had the number one song in America, And the Angels Sing.  It was a rerecording of trumpet player Ziggy Elman's 1938 instrumental number, Freilach in Swing.  Elman had first gained recognition as a trombonist with Jewish bands in Atlantic City and Philadelphia.
Goodman and Elman would appreciate Vinnitsky's efforts. When the music video hits 1:51 in, you will know what I mean.